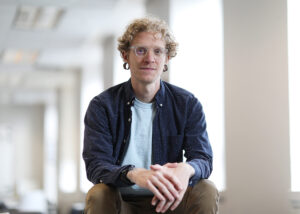 Kyle T. Ganson
Assistant Professor
Ph.D., Simmons University
Research Interests:
Eating disorders among boys and men
Muscle-enhancing behaviors
Performance-enhancing substance use
High risk behaviors (e.g. self-injury, suicidal behavior, weapon carrying, etc.)
Violence victimization and perpetration
Adolescents and young adults
Research-to-policy translation
Biography:
Kyle T. Ganson, PhD, MSW joined the Factor-Inwentash Faculty of Social Work in July 2020 after completing his doctorate degree at Simmons University School of Social Work. Kyle also served as an adjunct instructor at Simmons University for over 5 years where he taught clinical practice and research courses. Kyle is a licensed clinical social worker in both Maine and Massachusetts and has over 7 years of post-masters clinical practice experience working with adolescents and adults in a variety of mental health care settings. His clinical experience has largely focused on individuals and families experiencing major mental health concerns, with a particular interest and expertise in eating disorders treatment. 
Kyle's research agenda stems directly from his practice experience, specifically the exacerbation of mental health and social problems due to lack of resources, policy constraints, and uninformed practitioners. Given these barriers, his research agenda focuses primarily on the etiology, prevention, and intervention of eating disorders and muscle-enhancing behaviors among the under-served and under-researched male population. Kyle's research has been published in a variety of peer-reviewed journals including Pediatrics, JAMA Pediatrics, The Lancet Child and Adolescent Health, Journal of Adolescent Health, International Journal of Eating Disorders, Journal of Interpersonal Violence, International Journal of Adolescent Medicine and Health, Eating Disorders: The Journal of Treatment and Prevention, and Substance Use and Misuse, among others. Kyle has also presented his research and clinical practice expertise at both national and international conferences including the Society for Social Work and Research (SSWR) and The International Conference on Eating Disorders (ICED). Kyle's research has been featured in the Toronto Star, STAT News "Morning Rounds" newsletter, the Bangor Daily News, the Miami Herald, among others.  
Kyle currently teaches Elements of Social Work Practice (SWK 4103), Social Work Practice Laboratory (SWK 4105), and Social Work Practice with Children and Adolescents (SWK 4620). 
Additional Websites:
Canadian Study of Adolescent Health Behaviors