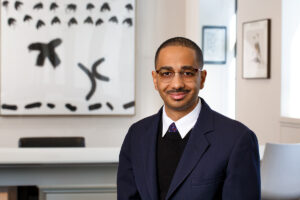 Harry Taylor
Assistant Professor
Ph.D., Washington University in St. Louis
Research Interests:
Social Isolation and Loneliness
Social Relationships, Social Support and Social Networks
Black adults and older adults
Biography:
Harry Taylor joined FIFSW as an assistant professor in 2021. His research addresses the prevalence, risk factors, and associative health outcomes of social isolation and loneliness among older adult Black Americans. His research increases public awareness of these factors and is poised to inform risk assessments, intervention programs, and policies to mitigate the adverse health effects of isolation and loneliness. Dr. Taylor primarily utilizes quantitative techniques to analyze nationally representative panel data. He has also collected quantitative and qualitative data with collaborators to examine social connections in senior housing communities in the St. Louis Metropolitan Area.  
Dr. Taylor earned his PhD at the George Warren Brown School of Social Work at Washington University in St. Louis, his MSW at the School of Social Work and MPH at the School of Public Health at the University of Michigan, and his BA in Sociology at Howard University. He has received extramural funding for his research from the National Institute of Aging, and his research has been published in peer-reviewed outlets including The Journal of Gerontology: Social Sciences, The Journal of Aging and Health, The Annual Review of Gerontology and Geriatrics, and The Journal of Gerontological Social Work.  His work has also been featured in Public Health Post, Aging Today, and US News and World Reports.