The CBC interviews Esme Fuller-Thomson about why ADHD often gets undiagnosed in women and girls
Categories:
Esme Fuller-Thomson
October is ADHD Awareness Month in Canada, a time to highlight issues that impact those with ADHD and increase public understanding. Professor Esme Fuller-Thomson's research in this area has helped build awareness of how ADHD affects adults. This month, she was interviewed by television and radio programs across the country.
On October 20th, Fuller-Thomson spoke to the CBC's Sarah Penton about why ADHD often gets undiagnosed in women and girls.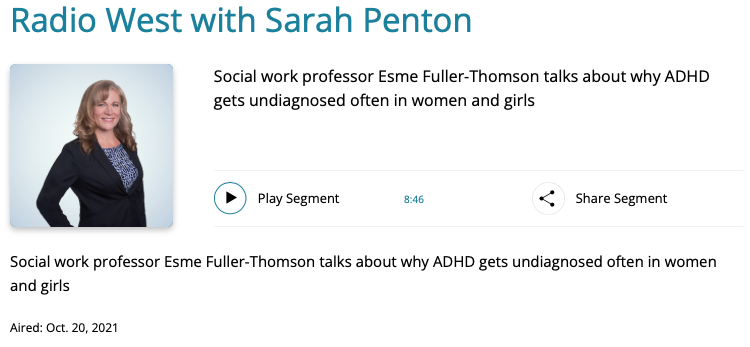 When most people think of ADHD, they "visualize a grade three boy bouncing off the walls disturbing the classroom running around and making mayhem. Those are the kids who totally get flagged and assessed and get diagnosed," says Fuller Thomson. She explains that because girls are more likely to have an inattentive type of ADHD, which may involve trouble with organizing things, doing homework of being forgetful, they often fly under the radar screen. This has led to more women being diagnosed, later in life, in their 30s and 40s.
Fuller-Thomson has been Director of the Institute for Life Course and Aging since 2016.She is a full professor at FIFSW, with cross-appointments to the Department of Family & Community Medicine and the Faculty of Nursing. She has published more than 150 peer-reviewed articles on the long-term health impacts of adverse childhood experience, grandparents raising grandchildren, social determinants of disability among older adults, ADHD and immigrants' health.
---
Related: