Social Work Week & Social Work Month: Celebrating the essential contributions of social workers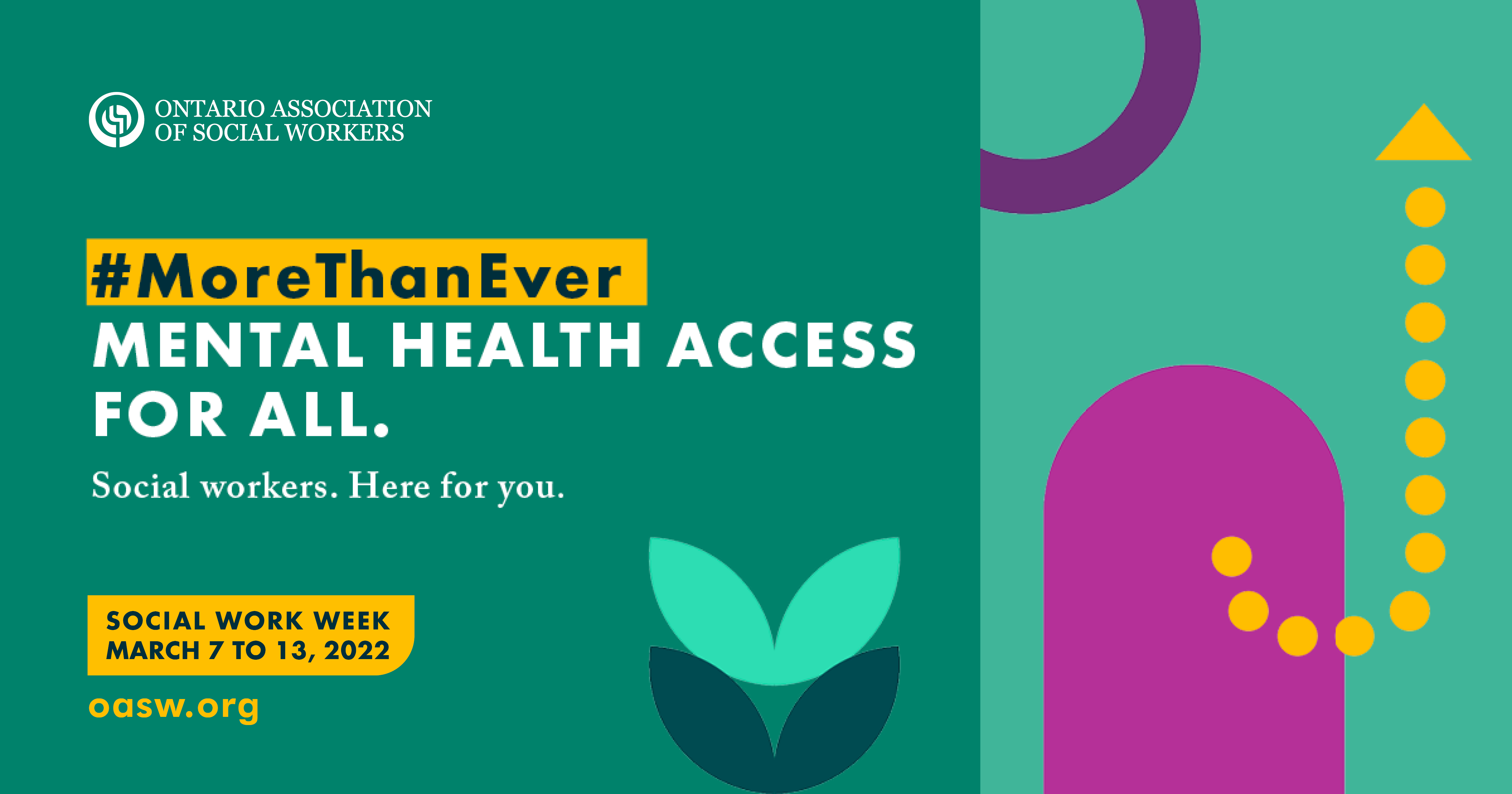 March is a busy time for those in the social work field. March 7 to 13 is Social Work Week in Ontario, a time for the profession to come together through engaging virtual events, advance shared goals through collective advocacy, and celebrate and spotlight social workers' essential contributions towards ensuring mental health access for all.
"Two years into the pandemic, people and communities across Ontario are navigating the mental health impacts of anxiety, stress, and burnout like never before," says the Ontario Association of Social Work. "Ontario's Registered Social Workers were here for you before COVID-19. They're here for you now, and they'll be here for you in the future."
March 7 – 11 is also Black Mental Health Week in Toronto. Hosted by Toronto For All, Tropicana Community Services and Strides Toronto, this awareness week was launched to "improve understanding and to initiate action to end anti-Black racism and the negative mental health impact it causes where Black communities live, work and play." All are invited to join series of presentations, hosted Toronto's foremost experts on the connection between anti-Black racism and mental well-being. You can view the calendar of events here.
Finally, the entire month of March is recognized as Social Work Month in both Canada in the United States. During this time, communities around the world also celebrate International Women's Day (March 8), the International Day for the Elimination of Racial Discrimination (March 21) and International Transgender Day of Visibility (March 31).
Listed below are some of the initiatives and events that FIFSW and others have planned for this month. Are you a FIFSW student, alumni or faculty member? Let us know how you are celebrating this month. Click here to share your news and events.
---
Introducing FIFSW's new monthly newsletter
As we celebrate Social Work Week 2022, we are very excited to bring you the first edition of our new monthly newsletter, which will provide a window into events and happenings at the Faculty and share stories about how our students, staff, faculty and collaborators are taking social work values, knowledge and practice into the world.
As FIFSW Interim Dean Charmaine Williams writes in her opening message,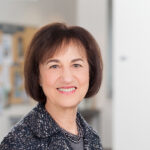 "This inaugural edition of the newsletter is dedicated to our wonderful colleague, Professor Marion Bogo. Many of you will remember that we shared the news of her passing last fall; she is greatly missed. Marion was a beloved colleague, a valued collaborator, an esteemed educator and, to so many of us, a trusted mentor whose tremendous impact on the field continues to reverberate around the world.
"Marion knew so well the importance of sharing research, engaging professionals, and broadening public understanding of the important work that social workers strive to do. These efforts work to advance FIFSW's key mission — and the area where Marion's influence was most keenly felt — educating social workers make a difference in our communities."
We plan to continue to celebrate Marion and her work over the coming year. Who those who are interested, we invite you to contact us to learn more how you can participate in recognizing her legacy.
To subscribe to FIFSW's monthly newsletter, please click here.
---
OASW study: Eighty per cent of Ontarians think mental health support vital to move past the pandemic, but less than one-third feel supports are accessible
A survey, commissioned by the Ontario Association of Social Workers (OASW) and released in honour of Social Work Week, reveals four-in-ten (38%) Ontarians report their mental health was negatively impacted in the past year, with 14% reporting that supporting a friend or family member experiencing declining mental health has impacted their own mental health. The survey also revealed eight in ten Ontarians think mental health support is vital to move beyond the pandemic, but less than one third feel supports are accessible.
> Click here to read the full press release
---
Alumni Podcast Series: Profiles in Social Work
Interesting in learning more about the work that social workers do? Profiles in Social Work is a podcast series that was created to highlight information about the field of social work through the diverse experiences of FIFSW alumni. Their stories highlight the many ways FIFSW graduates are making a positive difference in the lives of individuals, families and communities.
> Click here for links to Profiles in Social Work episodes
---
Upcoming events
Through my Eyes: South Asian Perspectives on Leadership, with Dr. Deepy Sur, PhD, RSW CEO of the OASW
March 7, 12:00 – 1:00pm
Social Work Week Seminar Series, Presented by the Ontario Association of Social Workers (OASW)
> Register here
Join the OASW to kick off Social Work Week with a candid address from OASW's CEO Dr. Deepy Sur on culture and leadership. In particular, Dr. Sur will explore South Asian perspectives related to creating a culture of empathy, transformation and leadership effectiveness. This talk will highlight the importance of leveraging diverse leadership talent to understand the richness amongst racialized groups, in an effort to diversify the prototype of leadership. Attendees will also hear more about OASW's Social Work Week campaign, including key ways to celebrate and participate to spotlight the essential contributions of social workers across Ontario.
Strategies & Skills Learning & Development (SSLD) Next Generation Practice Model, with Prof. Ka Tat Tsang
March 7, 12:00 – 1:00pm
*This is an in-person event for FIFSW students
Location: Room 548
SSLD is an intervention system for bringing about change in human life, including our thinking, action, motivation, emotion, body, as well as our environment. Developed by Professor Tsang, it was first named in 2005, based on over three decades of research and practice experience in social work, clinical psychology, and different areas of human services. Prof. Tsang will present on the following:
Social work practice in the post-professional era
SSLD principles and methods
Examples of SSLD applications (TBD according to participant interest): mental health, addiction, dementia, community organization and development
Opportunities for Q&A and open forum
Social Workers on the Frontline of the Echo Pandemic in Family Law: Enhancing Children's Voices, Safety and Wellbeing," With Prof. Michael Saini
March 7, 6:30 – 8:00pm
Presented by FIFSW's Alumni Association
> Register here
Due in part to COVID-19's mitigation strategies and resulting effects (higher rates of family breakdown, intimate partner violence, child abuse, mental health issues, financial stresses, etc.), family courts are overwhelmed with backlogs, long delays and a diminished capacity to provide access to justice. This echo pandemic in family law necessitates social workers to be active agents to assist families transitioning out of the Covid-19 global pandemic. In this presentation , the role of social work in family law will be highlighted as we take on child-centred, innovative and differential approaches to respond to the increased pressures on family court services, to improve access to justice, and to harness our collective strength to help navigate families through this crisis.
Social Work Student Spotlight: Preparing for Life After Graduation With Jaemar Ivey, MSW, RSW Doctoral Student at FIFSW OASW Student Director
March 8, 12:00 – 1:30pm
Social Work Week Seminar Series, Presented by the Ontario Association of Social Workers (OASW)
> Register here
Join OASW Student Director Jaemar Ivey and a panel of social work students from across Ontario for a relaxed and engaging conversation spotlighting social work student experiences. Jaemar and panelists will get real about what it's been like to complete their studies during COVID-19, share insights and approaches on preparing for life after graduation, and reflect on the ways that today's unique generation of social work students are making their mark on the profession.
The GSA Presents: An Interview with Jasteena Dhillon
March 8, 4:00 – 5:15pm
For FIFSW students
> Register here
#MoreThanEver social workers are essential. But, we are only human. A pandemic, and now, war and conflict in Europe is mentally exhausting. Jasteena will chat with us about her approach to self-care practices. How does she preserve and maintain her own good mental health in her various humanitarian social justice roles? What work has she done with social workers in the past? Where does she envision the role of social work professionals going in the future? Jasteena will also, briefly address her experience working as a legal advisor in Ukraine, to give students hope, and offer suggestions about how we can maintain a sense of purpose and community through allyship framed by compassion and emotional regulation.
The Bundles I Carry: Exploring Indigenous Social Work Practices, with Lori Flinders-McMillan, MSW RSW, CFNHM OASW Director CEO of Binesiwag Center for Wellness
March 9, 12:00 – 1:00pm
Social Work Week Seminar Series, Presented by the Ontario Association of Social Workers (OASW)
> Register here
Join OASW Director and Chief Executive Officer of the Binesiwag Center for Wellness Lori Flinders-McMillan for an exploration of Indigenous and Anishinaabkwe social work principles and practices. Speaking from her personal experiences as a Anishinaabkwe social worker, Lori will share insights on the practice bundle she carries, and the importance of grounding work with Indigenous communities in awareness, intention and a strengths-based perspective.
The Racialization of Poverty: Understanding Opportunities & Barriers in Income Support for Racialized Clients, with jasleen johal, Lawyer, South Asian Legal Clinic of Ontario
March 10, 12:00 – 1:30pm
Social Work Week Seminar Series, Presented by the Ontario Association of Social Workers (OASW)
> Register here
Across Ontario, racialized communities are facing poverty and income insecurity at disproportionately higher rates. While income supports are available through provincial and federal programs, we know that mental and physical health can look quite different for racialized communities, and that there are many unique barriers to accessing support. Join jasleen johal of the South Asian Legal Clinic of Ontario to explore the history of South Asian communities in Canada and Ontario, and the realities on poverty in these and other racialized communities. Gain a deeper understanding of the distinct barriers these communities face, learn more about available income supports and how clients can access them, and understand how our legal system can be leveraged to secure needed income support for racialized populations facing mental and physical health challenges.
The Children and their Families Stream Hosts: A Presentation by Dr. Cindy Blackstock Executive Director of First Nations Child & Family Caring Society of Canada
March 10, 12:00 – 1:30pm
For FIFSW students only
*Zoom registration information was sent to all FIFSW students by email
Dr. Blackstock is member of the Gitksan First Nation with 25 years of social work experience in child protection and indigenous children's rights. Her research interests are indigenous theory and the identification and remediation of structural inequalities affecting First Nations children, youth and families. She serves as Executive Director of the First Nations Child and Family Caring Society, whose litigation against Canada has secured hundreds of thousands of services for First Nations youth.
The GSA and the BSWSA Presents: Knowing When to Reach Out! A Talk with Asante Haughton
March 10, 6:00 – 7:00pm
For FIFSW students only
*Zoom registration information was sent to all FIFSW students by email
Asante Haughton is a mental health advocate devoted to changing the world. He is focused on amplifying the stories of everyday people to illuminate gaps in the system while working to build bridges between community members and policy makers in order to find solutions to challenges together. Asante is the co-founder of the Reach Out Response Network, an organization advocating for non-police led mobile crisis emergency response. Asante is also a 2x TEDx speaker and a CAMH Difference Maker, awarded with the distinction of being one of the top 150 mental health influencers in Canada. Asante has also recently contributed his poetry and writing to a book called, AfriCANthology, a collection of poems, stories and essays by Black artists and thinkers. When Asante is not speaking and advocating he is designing, managing and facilitating peer support training programs at Stella's Place, a youth mental health service agency in Toronto and hosting the web show, Cypher, which turns peer support stories into original songs by Juno nominated musicians. Young at heart, silly, self-deprecating and able to find a sports analogy for virtually anything, Asante tries not to take himself too seriously despite being engaged in the serious work of changemaking!
This talk features a 40 minute presentation on Introducing the Reach Out Network and what prompted the initiative ,Asante's steps in their advocacy approach and community engagement, and advocating for systemic mental health changes – followed by a 20 minute Q&A.
Shared Responsibility: A Virtual Community Dialogue on Policy Praxis in Social Work
March 21, 12:00 – 1:30pm
Join FIFSW students on March 21st, from noon to 1:30pm for "Shared Responsibility: A Virtual Community Dialogue on Policy Praxis in Social Work."
This virtual forum is hosted by MSW students in the Social Justice & Diversity Field of Study at the Factor-Inwentash Faculty of Social Work.
Please join SJ&D students to discuss and consider how social workers can (and do) intervene in local, national, and global policies to advance social justice.
Following a world café format, forum attendees will be invited to join two break-out sessions on one of the topics listed below, followed by a facilitated discussion on strategies for policy praxis in social work.