Ellen Katz shares her experience teaching students about experiential and embodied learning, and meditation practices
Categories:
Ellen Katz
Associate Professor Ellen Katz is a featured guest on The Circled Square, a podcast on Buddhist Studies in Higher Education.
In this interview, Sarah Richardson sits down with Dr. Ellen Katz, who has a unique lens as both a practising Social worker and a practising Buddhist, and a professor who marries these two experiences in and for her students. She discusses how she teaches her students about experiential and embodied learning, and meditation practices, in an undergraduate course on mindfulness and mental health interventions, and in graduate courses on mindfulness for social work students who may apply this one day in the field. For Ellen though, it is important that mindfulness is not a tool, but instead a practice that all must experience to understand.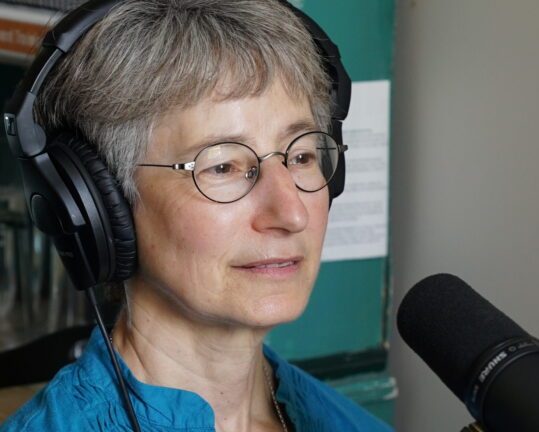 Katz joined Factor-Inwentash Faculty of Social Work in 2014 as a Lecturer and Director of Continuing Education. In 2016, she became an Assistant Professor, Teaching Stream and the Continuing Education Program transitioned to the School of Continuing Studies.
Prior to 2014, Katz held roles as a Faculty-Field Liaison in the Practicum Office, and an Educational Coordinator, an Adjunct Lecturer and an Assistant Professor, Status-Only in the community. She currently holds a joint appointment as an Adjunct Lecturer at the Hincks-Dellcrest Centre.
Her research and clinical interests focus on mindfulness and contemplative practices as informed by Buddhist thought, family therapy, simulation, and the development of competence in both students and clinicians. The latter interest has led to her work with Professor Marion Bogo in developing novel approaches to assessment of student and practitioner competence.
Katz was a Senior Investigator with the Mind and Life Summer Research Institute, the Dalai Lama's initiative to bring science and contemplative practice together in developing interventions to ease human suffering and increase knowledge of how mindfulness can be used in that process. She was awarded the Larry Enkin Innovation in Teaching and Simulation Award from the Faculty in 2019.
---
Related: