NICE's anti-ageism in the workplace campaign is featured on Global News
Categories: Faculty, Lynn McDonald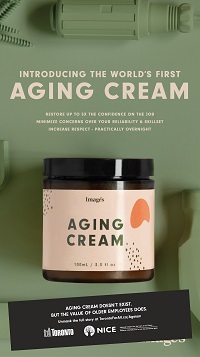 The National Initiative for the Care of the Elderly (NICE) in partnership with the City of Toronto has kicked off a new campaign that challenges anti-ageism in the workplace. To draw attention to the issue, they launched "the world's first aging cream." Ads for the fake cream, "Imagés," could be found in Toronto bus shelters in November.
Passers-by were also invited to try the cream, and their reactions, caught on camera, prompted conversations about ageism in our society.
"Ageism is the most prevalent form of discrimination in the world according to the world health organization," Laura Tamblyn Watts, NICE's director of public policy told Global News. "And it is still the most socially acceptable form of discrimination."
Tamblyn Watts lectures on law and aging issues at the University of Toronto. She is also a course instructor at U of T's Factor-Inwentash Faculty of Social Work (FIFSW).
Housed at FIFSW, NICE is an international network, made up of researchers, practitioners, students, and seniors. The initiative was founded by Professor Emeritus Lynn McDonald, who serves as the board's scientific director.  NICE's Network Manager Raza Mirza is also an instructor at FIFSW.
NICE's anti-ageism campaign was covered by BlogTO and Global News.