2023 Orange Shirt Day and National Day for Truth and Reconciliation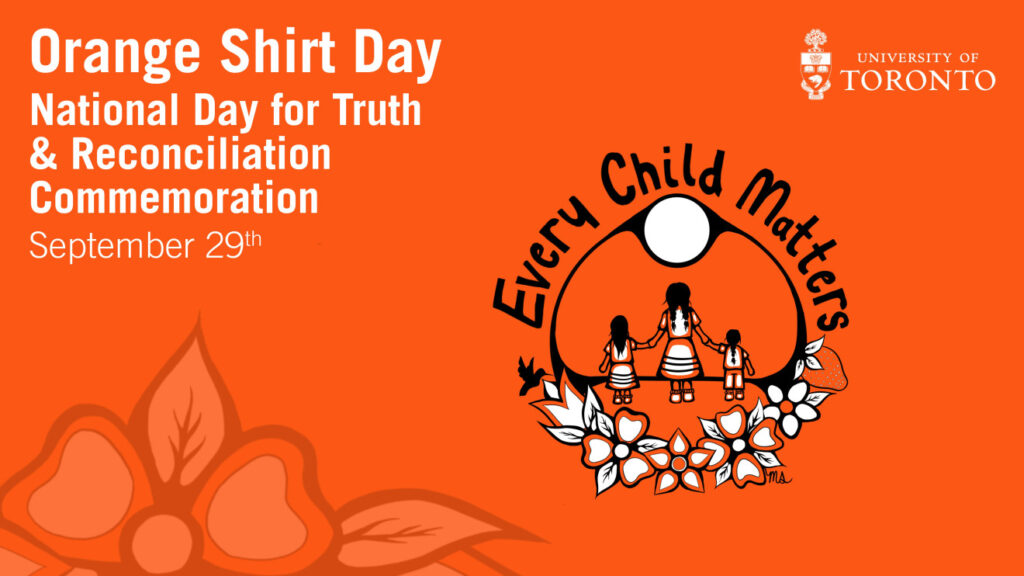 September 30 marks Orange Shirt Day and the National Day for Truth and Reconciliation — a day to honour Survivors of residential schools and those who never returned home, as well as the families and communities who continue to be affected by intergenerational trauma.
The Factor-Inwentash Faculty of Social Work invites students, faculty, staff, alumni and partners to participate events taking place at the University of Toronto, FIFSW and beyond in recognition of this important day. Below is a list of events, plus relevant resources, including articles, reports, videos and more. Members of our community who would like to suggest additions to our list are invited to contact dale.duncan@utoronto.ca.
---
EVENTS
Orange Shirt Day at the University of Toronto: National Day for Truth & Reconciliation Commemoration
Friday, September 29
10:30am to noon EST
Great Hall, Hart House, 7 Hart House Circle
Also available via livestream
Learn more and register. (While in-person registration is now full, we encourage you to join the event via livestream.)
The University of Toronto will commemorate the day on Friday, September 29th with remarks from Alexandra Gillespie, Vice-President & Principal, University of Toronto Mississauga, and Rose Patten, Chancellor, University of Toronto, in the Great Hall at Hart House. David Kim, Warden, Hart House, will host the commemoration.
Following those remarks, Grant Hurley, Canadiana Librarian, Thomas Fisher Rare Book Library, Mikayla Redden, Information Services & Instruction Librarian, New College Library, and Desmond Wong, Outreach Librarian, OISE Library, will engage in a panel discussion on making Residential School Survivors' stories accessible at the University of Toronto Libraries. Angela Henshilwood, Head, Engineering & Computer Science Library, is moderating the discussion.
The Truth about Reconciliation: Healing the layers of oppression – FIFSW Alumni Association
Monday, October 2
6:30om to 8:00pm ETOnline (Zoom)Register here
All are invited to join FIFSW's Alumni Association for the first lecture in its 2023-2024 Alumni Series. Assistant Professor Suzy Goodleaf will present a talk titled, "The Truth about Reconciliation: Healing the layers of oppression." Alumni, students, faculty and members of the public are all welcome to attend.
New Horizons: A Conversation with Professor Murphy
Friday, September 29
8:00am to 9:00am
Webinar
Learn more and register.

What if what you know about lands and bodies is wrong? Join University of Toronto Department of Family and Community Medicine (DFCM)
on Friday, September 29 as we welcome Professor M Murphy to discuss learnings from Land/Body relations in Indigenous environmental justice, and how we can relate these to health and healthcare. The discussion will be moderated by Dr. Danielle Martin, DFCM Chair.
Starting with Métis and Anishinaabe approaches to Land/Body relations, Professor Murphy will share ways of understanding environmental health, building on the work of the Indigenous Environmental Data Justice Lab at U of T's Technoscience Research Unit, where community members and academics collaborate together to address pollution in Canada's Chemical Valley.
M Murphy is a Red River Métis from Winnipeg. They are Tier 1 Canada Research Chair in Science and Technology Studies and Environmental Data Justice, Co-Director of the Technoscience Research Unit, and Professor in History and Women and Gender Studies at the University of Toronto.
Wildhood Screening and Q&A
Thursday, September 28
7:00pm to 9:45pm
Innis Town Hall, 2 Sussex Avenue
Learn more and register
In honour of the National Day for Truth and Reconciliation, the Canadian Film Forum presents a special screening of the award-winning film, Wildhood. In this coming-of-age drama, a two-spirit teenager runs away from home to find his birth mother, and reclaim his Mi'kmaw heritage.
A Q&A will follow the screening, with writer-director Bretten Hannamjoining virtually and producer Julie Baldassi in person.
Land Alliance March
Wednesday, September 27
12:00pm
Grange Park, Toronto
Learn more and Register
On September 27th, 2023 five First Nations from Northern Ontario will come to Toronto to lead a march calling on Premier Ford to end unwanted mining activity on our Territories.  These five strong First Nations have formed a historic alliance to protect our lands and waters in the face of mounting concerns about encroachment on our territories by mining exploration companies who have been enabled by the Ford Government.
Learn more:
Amnesty Youth Video
20th Anniversary Video
Neshkantaga Profile
Bob Joseph on '21 Things You May Not Know About the Indian Act'
Monday, September 25
5:00pm to 6:00pm EDT
Desautels Hall, Rotman School of Management, 105 St. George St.
$0 to $28.19 (paid tickets include a copy of the book, meet-and-greet with book signing by author and light refreshments; An allotment of in-person tickets for current U of T students, faculty and staff are available in limited quantities and do not include a copy of the book)
Also available via livestream
Learn more and register.
Indigenous leader Bob Joseph discusses his book "21 Things You May Not Know About the Indian Act." Since its creation in 1876, the Indian Act has shaped, controlled, and constrained the lives and opportunities of Indigenous Peoples, and is at the root of many enduring stereotypes. 21 Things You May Not Know About the Indian Act is the essential guide to understanding the legal document and its repercussion on generations of Indigenous Peoples, written by a leading cultural sensitivity trainer.
National Centre for Truth and Reconciliation: Truth and Reconciliation Week
September 25-30
Learn more and register.
The National Centre for Truth and Reconciliation (NCTR) is a place of learning and dialogue where the truths of Residential School Survivors, families and communities are honoured and kept safe for future generations. It is offering Daily Lunch & Learns beginning at 12:30 CDT from September 25 to September 29. The Centre is also commemorating the National Day for Truth and Reconciliation with an event on Parliament Hill in Ottawa. The event, Remembering the Children, will memorialize the children lost to the residential school system and honour Survivors and their families. Those who can't attend in person can tun in to the live National broadcast beginning at 12:00pm.
EXHIBITION
The Children Have to Hear Another Story, curated by Richard Hill and Hila Peleg
September 7 to Novembe 25
Art Museum, University of Toronto, (in University College), 15 King's College Circle
Learn more.
Abenaki filmmaker, artist, and activist Alanis Obomsawin was born into a period of Canadian history when options for social and political agency were systemically foreclosed for Indigenous peoples. Despite this, she persevered and was able to consistently insert her voice and intervene in major public media platforms to advance Indigenous concerns and tell Indigenous stories. Her integrity and commitment have made Obomsawin one of the most revered and beloved artists within Indigenous communities and celebrated in Canada and around the world.
VIDEOS
"The Stranger"
"The Stranger" is the first full chapter and song of The Secret Path. Adapted from Gord Downie's album and Jeff Lemire's graphic novel, The Secret Path chronicles the heartbreaking story of Chanie Wenjack's residential school experience and subsequent death as he escapes and attempts to walk 600 km home to his family. The Secret Path acknowledges a dark part of Canada's history – the long-supressed mistreatment of Indigenous children and families by the residential school system – with the hope of starting our country on a road to reconciliation.
Read more about The Secret Path.
UTM's All-Nations Powwow: highlight video
In March, 2023, 1,500+ people attended the first All-Nations Powwow, hosted by the Office of Indigenous Initiatives and U of T Mississauga. If you missed the event, you can now catch the highlights as dancers, drummers and singers from across Turtle Island celebrate Indigenous cultures, language and relationship building. On demand anywhere, anytime.
Decolonizing Pathways Towards Integrative Healing in Social Work
In April 2021, the Factor-Inwentash Faculty of Social Work presented a two-hour workshop on, inspired by Michael Yellow Bird and Kris Clarke's book of the same name. Featuring a dialogue with the authors and a panel discussion with grassroots community leaders, this workshop created a space for social workers and those interested in the field to strengthen their knowledge and commitment to:   
Holding social work accountable for historic and ongoing complicity in colonial practices

 

Learning from social movements and Indigenous resistance to colonial violence, and

 

Creating pathways for knowledge that was closed by colonial systems to transform and decolonize social work theory and practice.
ARTICLES, WEBSITES and BOOKS
A reading list from Dr. Cynthia Wesley-Esquimaux
A member and resident of the Chippewa of Georgina Island First Nation in Ontario, Dr. Cynthia Wesley-Esquimaux has dedicated her life to building bridges of understanding between peoples. In 2014, she was inducted as a "Honourary Witness" by the Truth and Reconciliation Commission of Canada in 2014. She is also the Chair of the Governing Circle for the National Centre for Truth and Reconciliation at the University of Manitoba. She spoke to new Master of Social Work Students in 2022 and 2023 at FIFSW's Introduction to Social Work conference.
View the reading list that she shared with our students.
The Indian Residential School Survivors Society (IRSSS)
The Indian Residential School Survivors Society (IRSSS) is a provincial organization that provides essential services to residential school survivors and families experiencing intergenerational trauma.
National Centre for Truth and Reconciliation (NCTR)
National Centre for Truth and Reconciliation (NCTR) is a place of learning and dialogue where the truths of the residential school experience will be honoured and kept safe for future generations.
FIFSW RESEARCH
Building a foundation of truth
When the first Ontario Incidence Study of Reported Child Abuse and Neglect (OIS) was published in 1993, province-wide knowledge of child welfare investigation rates and outcomes was scarce.
Researchers have since produced a new Ontario study every five years, with the seventh iteration – led by Professor Barbara Fallon – launching later this year. Fallon stepped into the role of principal investigator of OIS after serving as project manager on the 1998 study. The remarkable 30-year research undertaking, which includes four Canada-wide studies and two studies specific to First Nations, has revealed hard truths related to racism and deep inequalities for First Nations as well as Black, Latin American and other racialized communities.
Read the full article, "A bitter truth: 30 years of child welfare data collection reveals deep systemic inequities, racism and harm."  
Promoting cultural connections and identity for Indigenous children in the child welfare system
After Ashley Quinn's great-grandfather had his Indian Status taken away by the Canadian government – a requirement for him joining the military – his descendants lost access to their Indigenous culture. Not having a sense of cultural identity, as well as experiences in the child welfare system, had a profoundly negative impact on Quinn's wellbeing. Today Quinn is a social work professor and researcher focused on finding ways for Indigenous children in the system to receive care that not only maintains, but nourishes, their cultural identity.
Read the full profile highlighting FIFSW Assistant Professor Ashley Quinn and their research.
Journal of Indigenous HIV Research 2Shawls Article Collection
 2SHAWLS (the Two-spirit HIV/AIDS Wellness and Longevity Study) was a project co-led by FIFSW Professor David Brennan, Indigenous elder and community provider Art Zoccole, noted Indigenous social work scholar Randy Jackson, as well as another Indigenous leader, the late Tony Nobis.  
"2SHAWLS was born from the experiences of Indigenous community providers who were frustrated with the ongoing focus in research on the perceived dysfunction, harm, suffering, and pathology among two-spirit people living long-term with HIV," write the researchers in their introductory essay. "Community providers working with many long-term HIV-positive two-spirit men report they are doing very well, but the voices and experiences of these men are rarely represented in the research literature."