Ripple Effects: Examining the Impact of the MeToo movement on Sexual Violence Disclosures in Canada: A Research Study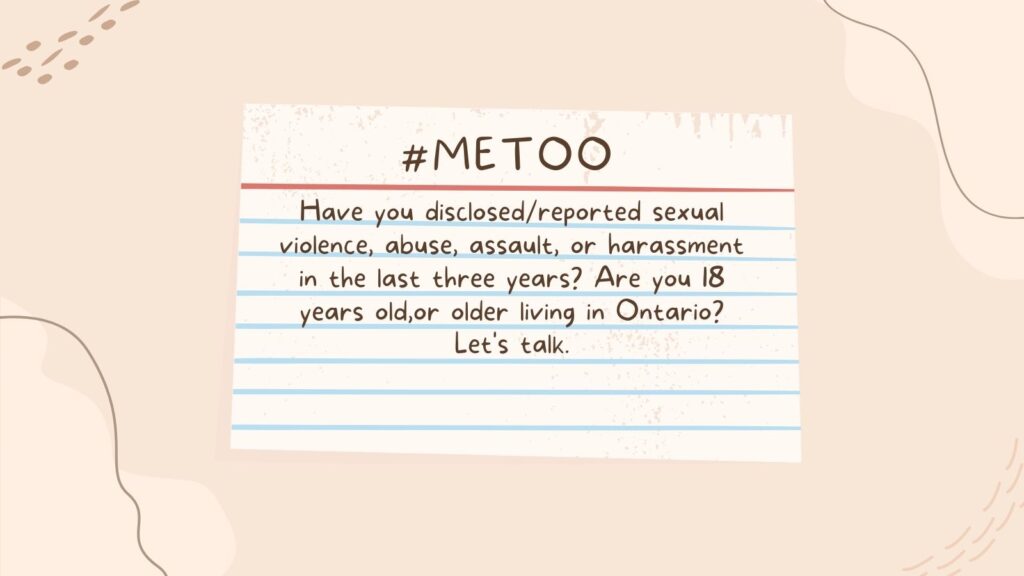 Researchers:
Dr. Ramona Alaggia, Factor-Inwentash Faculty of Social Work, University of Toronto
Ramona.alaggia@utoronto.ca
(416) 978-1923
Dr. Delphine Collin-Vézina, McGill School of Social Work
Delphine.collin-vezina@mcgill.ca
(514) 398-7058
Funding Agency: Social Sciences and Humanities Research Council of Canada
You are being invited to participate in this study and your participation is completely voluntary. A detailed information sheet will be sent if you are interested and obtaining written consent will be required before scheduling an interview.
If you are interested in hearing more please send an e-mail to Dr. Alaggia at rising2@gmail.com with subject line Ripple Effects. Prospective participants may also express their interest by clicking here.
What is the purpose of the study?
We would like to examine the impact of the MeToo movement on sexual violence disclosures in Canada. In fully understanding the phenomenon of collective sexual violence disclosures, we are interested in interviewing sexual violence survivors on the impact of the #MeToo movement on disclosing and to hear about the responses that were experienced.
What will happen if I take part?
If you decide to take part, you will be asked to participate in a telephone interview. The interview will be about 60 minutes. Dates and times for the interviews will be scheduled by a research assistant assigned to the study whose gender-identification matches the gender you are most comfortable speaking to about this topic. Discussion will be centered on the impact of the #MeToo movement on disclosing sexual violence. You will not be asked to share any details of the sexual violence you experienced unless you volunteer it. Interviews will be digitally recorded and transcribed verbatim for data analysis purposes with your written consent. Any identifying information will be removed when the digital recording is transcribed to protect individuals' privacy.
Will I be compensated for participating?
You will be sent a $25 gift card to a grocery store.
Who do I contact if I have any questions about the study?
If you have any questions about this study, you may contact Dr. Ramona Alaggia, Principal Investigator by phone at 416-529-5115 or by email at ramona.alaggia@utoronto.ca
Is anyone overseeing the study to ensure it is being done properly?
The study you are participating in may be reviewed for quality assurance by the University of Toronto to make sure that the required laws and guidelines are followed. If chosen to be reviewed, (a) representative(s) of the Human Research Ethics Program (HREP) may access study-related data and/or consent materials as part of the review. All information accessed by the HREP will be upheld to the same level of confidentiality that has been stated by the research team.