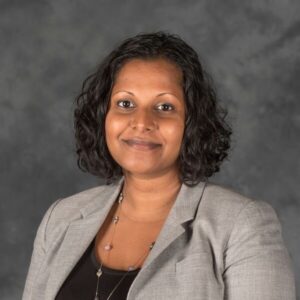 Uppala Chandrasekera
Sessional Lecturer and Assistant Professor (Status Only)
Biography:
Uppala Chandrasekera, MSW, RSW, is a Social Worker with over 20 years of work experience in the health sector, ranging from frontline work assisting individuals and families with mental health and addictions issues, to supporting mental health and addictions programming province-wide, and implementing the national strategy to address mental health across Canada.
Currently, Uppala is the Director of Public Health at Toronto Public Health. From 2013-2022, Uppala was the Director of Public Policy at the Canadian Mental Health Association Ontario.
Uppala currently serves on the Board of Directors of the Daymark Foundation, a national foundation committed to supporting the mental health of Canadians. From 2017-2020, she served on the Toronto Police Services Board, the first mental health professional to be appointed to this role. From 2012-2018, she served on the Board of Directors of the Mental Health Commission of Canada, the national organization mandated to improve the mental health system through sound public policy. From 2008-2014, she also served on the Board of Directors of Parkdale Community Health Centre, a primary care health centre focused on engaging with traditionally underserved communities in Toronto.
Uppala is an Assistant Professor (Status Only) at the Factor-Inwentash Faculty of Social Work at the University of Toronto. Through her research, published writings and work in the community, Uppala examines the impact of the lived experience of discrimination and racism on the health, mental health, and wellbeing of marginalized populations.
She can be reached by email at Uppala.Chandrasekera@utoronto.ca and on Twitter @UppalaC