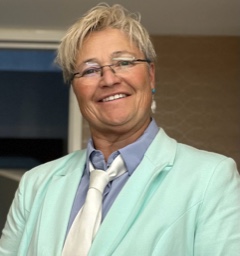 Suzy Goodleaf
Assistant Professor, Teaching Stream
MEd
Research Interests:
Indigenous wellness and resiliency
COVID-19 coping strategies
Biography:
Suzy Goodleaf is a Mohawk Two Spirted person from Kahnawake. A member of the Bear Clan, Goodleaf has been formally trained as a Psychologist and Marital and Family Therapist specializing in the treatment of trauma resulting from the multi-generational impacts of the oppression of First Nations People of Turtle Island. She has been fortunate to learn from elders and knowledge keepers from Kahnawake Nation and other First Nations across Turtle Island for over 36 years while working in the field of wellness. Goodleaf is currently working in many areas including: at a private practice In Kahnawake, as a psychologist at the Step by Step Family Center, as an Instructor at the University of Toronto's Indigenous Trauma and Resiliency field of study and as a general consultant for Goodleaf Consulting and Middelton-Moz Consulting. Her research interests include Indigenous wellness and resiliency especially in relation to COVID-19 coping strategies.
Goodleaf was one of the original Governing Council Members who fostered the promotion of  the Indigenous Trauma and Resiliency program developed by Jane Middelton-Moz. She continues to be a member of the Governing Council and Advisory Council with the University to ensure the integrity of the Indigenous values are upheld within the program.