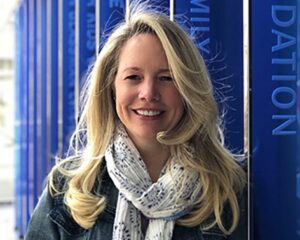 Samantha J. Anthony
Assistant Professor (status only)
Cross-appointed to the Institute for Medical Sciences, Faculty of Medicine
Ph.D., University of Toronto
Phone Number:
416-813-7654 ext 303126
Office Location:
Peter Gilgan Centre for Research and Learning
686 Bay Street – 6.9710
Research Interests:
patient-oriented research
health services research
implementation science
pediatrics
solid organ transplantation
Biography:
Samantha J. Anthony joined the University of Toronto Factor-Inwentash Faculty of Social Work in January 2016 as an Assistant Professor (Status only) and a Health Clinician Scientist in Social Work, a role created in partnership between the Factor-Inwentash Faculty of Social Work, University of Toronto and The Hospital for Sick Children (SickKids). She is a Scientist in the Child Health Evaluative Sciences Program at the SickKids Research Institute, a Social Worker in the SickKids Transplant and Regenerative Medicine Centre, and an Investigator with the Canadian Donation and Transplantation Research Program.
Her current program of research centers on establishing an evidence-based foundation for successful psychosocial adaptation and enhanced quality of life for children with chronic disease, with a particular focus on transplantation. Dr. Anthony has extensive knowledge and experience in qualitative research methodology, patient engagement, patient-reported outcome measures and implementation science.
Dr. Anthony has been recognized for her dedication to clinical practice and the application of research for improved patient outcomes. She has received national academic scholarships and has obtained highly competitive grants and research awards, including a 2017 Canadian Institutes of Health Research New Investigator Grant in Maternal, Reproductive, Child and Youth Health and the 2018 Canadian Child Health Clinician Scientist Program Career Development Award.