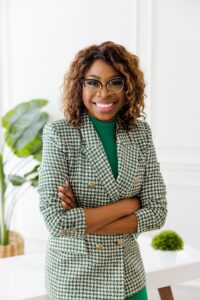 Roxanne Francis
Biography:
Roxanne Francis is an award-winning psychotherapist, registered social worker, consultant, leadership coach and international speaker, who has been helping people access tools to change their lives for over 15 years.
She is the Founder and CEO of Francis Psychotherapy & Consulting Services, where she is the Principal Therapist in her group practice, coaches and supervises other social workers, and provides consultation to various organizations addressing topics such as mental health in the workplace, diversity equity & inclusion, racial trauma at work, burnout, and women's issues. 
She is also the founder of The Therapist's Lounge™ – a Canadian conference which helps private practice social workers and psychotherapists meet their need for community, wellness and business support so they can better meet the needs of their clients and have thriving practices. 
Roxanne is an adjunct professor at the School of Social Work at the University of Toronto, and in 2020 she was recognized as one of Canada's 100 Black Women to Watch.  She is a sought-after podcast guest who shares her mental health expertise in print/online publications like Essence Magazine and Today's Parent Magazine, as well as multiple local and national media outlets including CTV CBC News and Breakfast Television.  
You can follow Roxanne on social media and on her website at www.francispsychotherapy.com.