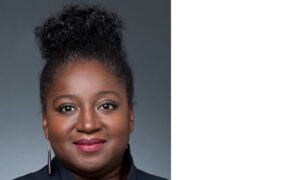 Notisha Massaquoi
Assistant Professor
Department of Health and Society, University of Toronto, Scarborough
Graduate Cross-Appointment, FIFSW
Ph.D, University of Toronto
Research Interests:
The Impact of Anti-Black Racism on Black Communities in Canada
Health Equity, Health Disparities, and Critical Health Theory
Critical Race Theory, Methodologies, and Pedagogies
African, Caribbean and Black Diasporas
Anti-Oppressive Practice
African Queer Theory
Canadian Black Feminist Thought
Biography:
Dr. Notisha Massaquoi is an Assistant Professor in Health Education and Promotion with the Department of Health and Society at the University of Toronto Scarborough Campus (UTSC).  She also holds a graduate-level cross-appointment to the Factor-Inwentash Faculty of Social Work. She holds a BA in Psychology from Western University, an MSW from FIFSW and a PhD from the Ontario Institute for Studies in Education (OISE) in Social Justice Education.
In 2020-2021, Dr. Massaquoi was a Provost Post-Doctoral Research Fellow at FIFSW, where her research focused on violence as a determinant of health in Black communities with an emphasis on health services for survivors of homicide victims in Canada.  Dr. Massaquoi is a community-based researcher utilizing Mixed methods to interrogate anti-Black racism and highlight the experiences of Black communities navigating institutional structures and systems in Canada, with a primary focus on the social determinants of health and health disparities.
Dr. Massaquoi works with communities to develop advocacy tools, strategies and programs to improve health outcomes and success in Canadian social systems.  She has received extramural funding for her research from the Canadian Institutes of Health Research, the Public Health Agency of Canada and the Ontario Ministry of Health and Long-term Care.  Her research has been published in peer-reviewed journals including Somatosphere, Gender and History, Social Science and Medicine, Canadian Journal of Public Health and Canadian Women's Studies. 
In her early social work career, Dr. Massaquoi initiated several organizations serving Black communities in Canada — including Africans in Partnership Against AIDS, the African Resource and Communications Centre and TAIBU Community Health Centre. She also established and served for two decades as the Executive Director of Women's Health in Women's Hands Community Health Centre in Toronto — the only Community Health Centre in North America to provide specialized primary healthcare for Black and racialized women.