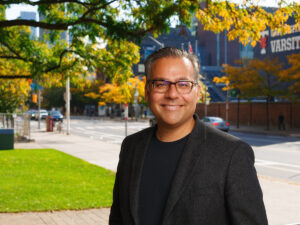 Daniyal Zuberi
Professor of Social Policy
Joint Appointment, Munk School of Global Affairs & Public Policy
Ph.D., Harvard University
Phone Number:
(416) 978-3264
Research Interests:
social policy
urban poverty
inequality
healthcare
immigration
Biography:
Daniyal Zuberi is Professor in Social Policy at the Factor-Inwentash Faculty of Social Work, with a joint appointment at the Munk School of Global Affairs and Public Policy at the University of Toronto. Prior to his appointment at the University of Toronto in 2012, he was the William Lyon Mackenzie King Research Fellow at Harvard University and a faculty member in the Department of Sociology at the University of British Columbia, Vancouver.
His research examines the causes and consequences of urban poverty, with a focus on the role of social policy in shaping the quality of life, hardships and opportunities of immigrant workers and their families in the health and service sector. He is currently investigating: 1. Social policy, inequality and poverty in Canada in a comparative context; 2. How barriers, hardships and resources shape the experiences of immigrants and refugees in Canadian cities; and 3. Policies, programs and reforms to reduce hardships, inequality and outcomes i.e. including urban investment, changes to social welfare, labour, education, housing and healthcare policy, mentoring programs, and child and family policy. This research will have significant implications for shaping important social and economic trends, including equality, opportunity, prosperity and health.
Daniyal is currently Principal Investigator (PI) of a SSHRC Partnership Development Grant on Poverty Reduction in the Peel Region (2023-2026). In 2015, he was an elected member of the Royal Society of Canada's College of New Scholars, Artists and Scientists.