New plaque recognizing Marion Bogo's immense impact installed on the third floor of FIFSW's building
Categories: Awards & Recognition, Faculty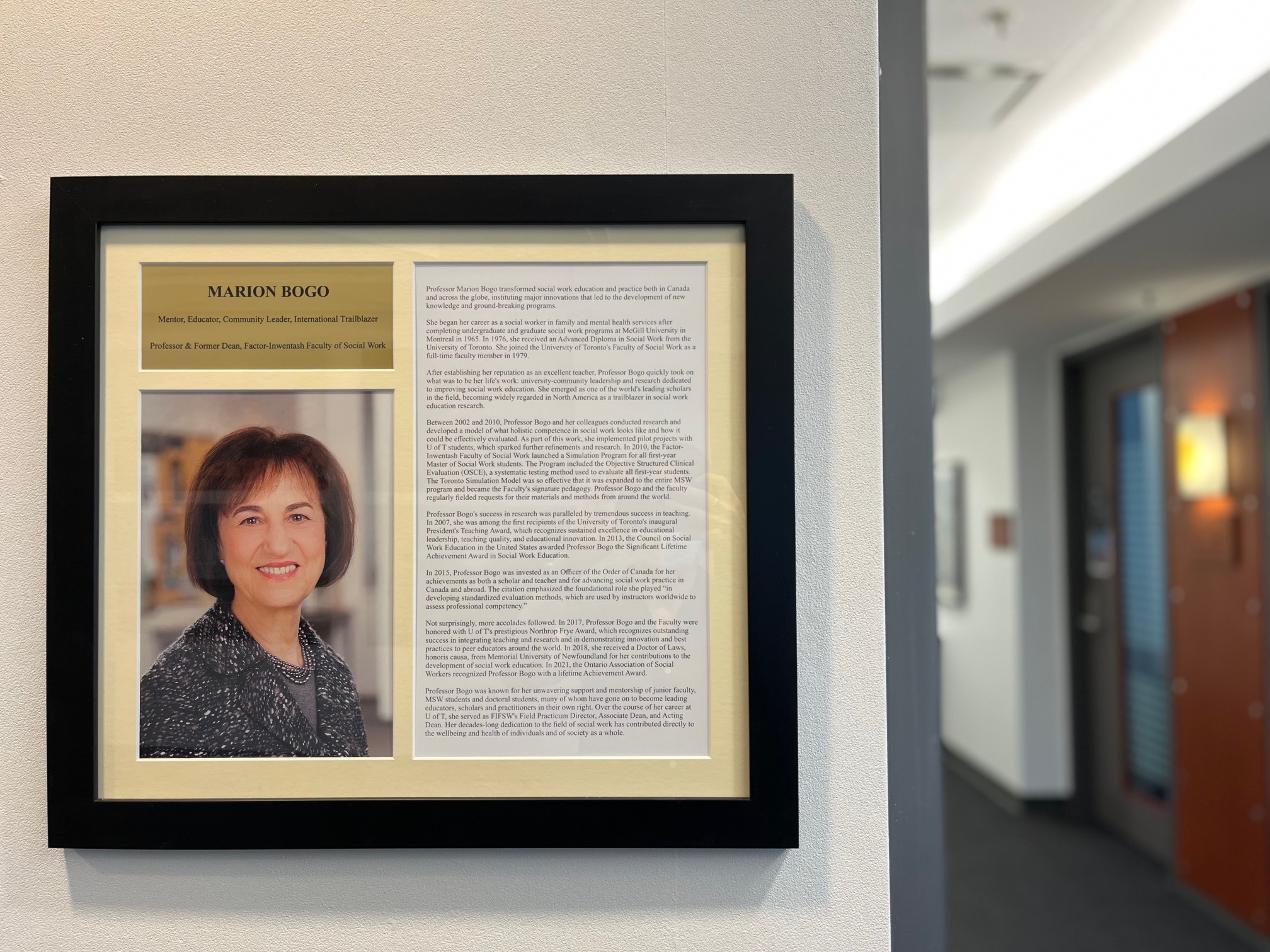 Professor Marion Bogo, who passed away on September 26, 2021, had an immense impact on the Factor-Inwentash Faculty of Social Work — and on the social work profession as a whole. Her research, guidance, teaching, and dedication to the field is now honoured in a plaque that has been installed next to the elevators on the third floor of FIFSW's building at 246 Bloor Street West.
The text of the plaque reads as follows:
MARION BOGO
Trusted mentor, beloved educator, devoted community leader,
world-renowned expert
Professor & Past Dean, Factor-Inwentash Faculty of Social Work
Professor Marion Bogo transformed social work education and practice both in Canada and across the globe, instituting major innovations that led to the development of new knowledge and ground-breaking programs.
She began her career as a social worker in family and mental health services after completing undergraduate and graduate social work programs at McGill University in Montreal in 1965. In 1976, she received an Advanced Diploma in Social Work from the University of Toronto. She joined U of T's Faculty of Social Work as a full-time faculty member in 1979.
After establishing her reputation as an excellent teacher, Professor Bogo quickly took on what was to be her life's work: university-community leadership and research dedicated to improving social work education. She emerged as one of the world's leading scholars in the field, becoming widely regarded in North America as "the dean of social work education research."
Between 2002 and 2010, Professor Bogo and her colleagues conducted research and developed a model of what holistic competence in social work looks like and how it could be effectively evaluated. As part of this work, she implemented pilot projects with U of T students, which sparked further refinements and research. In 2010, the Factor-Inwentash Faculty of Social Work launched a Simulation Program for all first-year Master of Social Work students. The Program included the Objective Structured Clinical Evaluation (OSCE), a systematic testing method used to evaluate all first-year students. The Toronto Simulation Model was so effective that it was expanded to the entire the MSW program and became the Faculty's signature pedagogy. Professor Bogo and the faculty regularly fielded requests for their materials and methods from around the world.
Professor Bogo's success in research was paralleled by tremendous success in teaching. In 2007, she was among the first recipients of the University of Toronto's inaugural President's Teaching Award, which recognizes sustained excellence in educational leadership, teaching quality, and educational innovation. In 2013, the Council on Social Work Education in the United States awarded Professor Bogo the Significant Lifetime Achievement Award in Social Work Education.
In 2015, Professor Bogo was invested as an Officer of the Order of Canada for her achievements as both a scholar and teacher and for advancing social work practice in Canada and abroad. The citation emphasized the foundational role she played "in developing standardized evaluation methods, which are used by instructors worldwide to assess professional competency."
Not surprisingly, more accolades followed. In 2017, Professor Bogo and the Faculty were honored with U of T's prestigious Northrop Frye Award, which recognizes outstanding success in integrating teaching and research and in demonstrating innovation and best practices to peer educators around the world. In 2018, she received a Doctor of Laws, honoris causa, from Memorial University of Newfoundland for her contributions to the development of social work education. In 2021, the Ontario Association of Social Workers recognized Professor Bogo with a lifetime Achievement Award.
Professor Bogo was known for her unwavering support and mentorship of junior faculty, MSW students and doctoral students, many of whom have gone on to become leading educators, scholars and practitioners in their own right. Over the course of her career at U of T, she served as the FIFSW's Field Practicum Director; Associate Dean; and Acting Dean. Her decades-long dedication to the field of social work has contributed directly to the wellbeing and health of individuals and of society as a whole.
---
In addition to the plaque's physical presence in FIFSW's building, the Faculty has created an online archive of photos and testimonials to recognize her profound contributions. Those who would like to contribute to a written or video testimonial to this site are invited to contact FIFSW's Senior Communications Officer Dale Duncan at dale.duncan@utoronto.ca.