Dean Dexter Voisin and Associate Professor Tanya Sharpe discuss the systemic racism that has contributed to recent events in both Canada and the US
Categories: Dexter Voisin, Tanya Sharpe

Dean Dexter Voisin and Associate Professor Tanya Sharpe have been speaking out, providing context and insight to media, in response to recent incidents of racial violence and discrimination in both Canada and the United States.

The killing of George Floyd by police in Minneapolis, the death of Regis Korchinski-Pauet after police were called to her apartment in Toronto, a family in Brampton that was subject to racial slurs from a man just outside their home — as Sharpe points out, such incidents are not new. "In fact, I think it's even woven into the fabric of our society," she told Global News in a segment about George Floyd's death.

Voisin made a similar argument in a separate interview with Global News in response to the death of Korchinski-Pauet. "Very often just the presence of a Black person is seen as a threat, so very often you have police officers who are responding to that because Black skin, Black bodies have been demonized and weaponized," he said.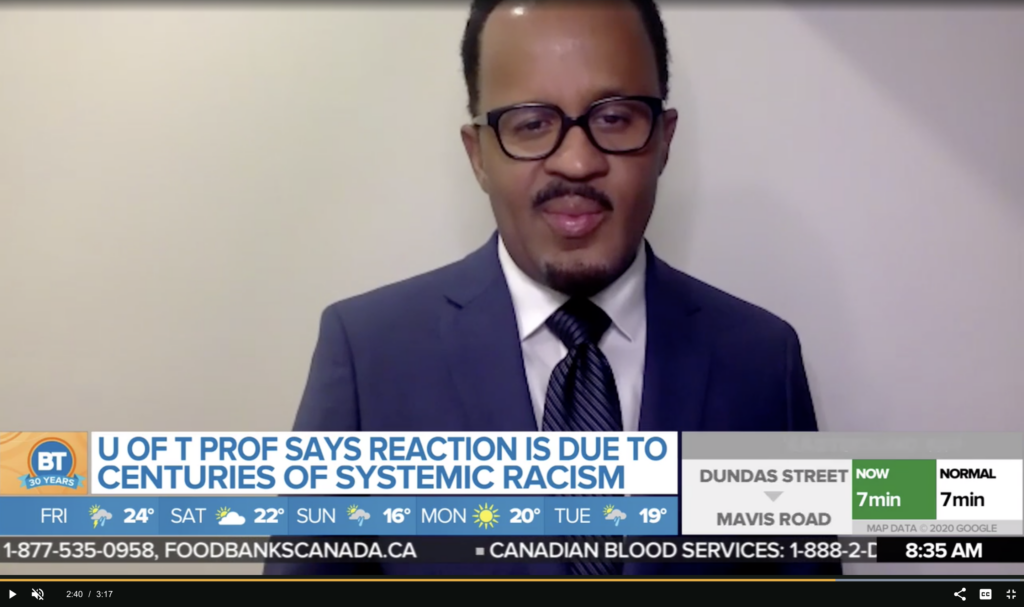 On Breakfast Television, he described how "the balance of power and justice is not equally distributed," adding that "we are all hurting and traumatized by [George Floyd's death].
Of all the accusations involving wrongful death by a police officer in the US, only about 35% of those make it to court & only a small fraction of those lead to convictions, Voisin told Breakfast Television host Tammie Sutherland.
In an interview with CTV News, he explained that "on average 1,000 people are killed by police officers per year in the US, but over a 12 year period, only 1% of officers were convicted for manslaughter or murder. "People are asking for police accountability," he said. "There must be equal justice under the law."
If we don't focus "on the economic, social and political structures that oppress [racialized communities], then these systems continue to remain unchecked," he told CityNews.
In her online series, 30@8:30, Sharpe describes the structural inequities that have plagued Black and Brown communities for centuries, and how COVID-19 is exposing them.
"Throughout the series, we discussed how society has made it clear that vulnerable populations, Black and Brown bodies are disposable," she said in her opening comments in the panel discussion Putting the Pieces Together, which aired May 27. "As we struggle for justice in various systems, such as our healthcare system, our criminal justice system, our educational system, etcetera, etcetera, now is an opportune time for us to reinvent ourselves, to reimagine how we can restructure systems of inequity that have methodically contributed to the illness and violent demise of us."
---
Media: