Home is a makeshift haven, by Saira Khan, explores contested notions of home and belonging
Categories: Student Art, Students

FIFSW students often produce creative work, including drawings, paintings, collage, video projects and more, as part of course work or co-curricular initiatives. These art-based projects offer an alternative way to explore, understand, and communicate knowledge, ideas and experiences — as well as inspire action and foster a sense of community. To view more student art, click here.
Home is a makeshift haven
By Saira Shafiq Khan
@another_aesthete
In the Summer 2022 Semester Saira Khan, Ijaabo Mohamed, Natalia Munive and Bilqees Mohamed created 'Home is Not a Place – Exploring What it Means to Belong' — a collection of artworks submitted as part of an expressive arts final assignment for SWK 4658: Social Work with Immigrants and Refugees taught by Associate Professor Izumi Sakamoto. Through this project, the students explored the various conceptualizations of home and belonging. They wove together their artwork by incorporating images of a tent which symbolizes precariousness and transiency. 
"Tents are portable homes. We chose to incorporate a tent within each of our artworks to demonstrate this symbolism and also to weave our interpretations together in a common theme," wrote the students on the website they created to share their work.  
Saira Shafiq Khan's piece in the collection was a zine titled Home is a Makeshift Haven.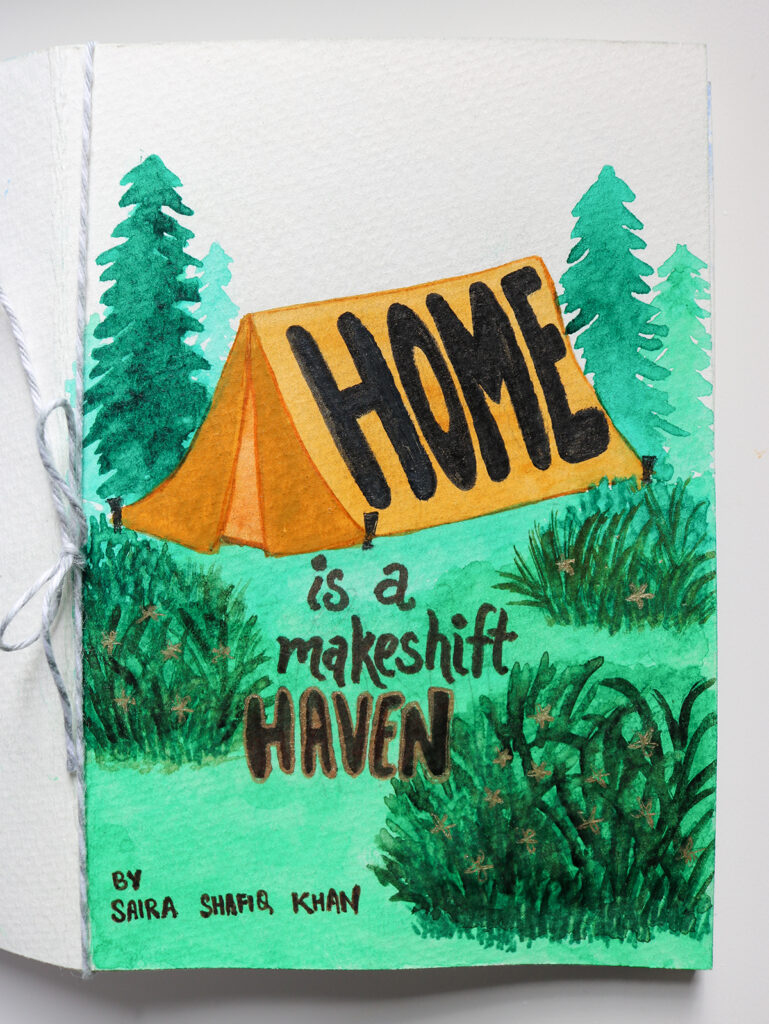 "Through my zine, I have expressed the contested notions of home and belonging as experienced in my journey of migration from Pakistan to Canada," writes Khan. "The concept of home has changed over the years for me and overlaps with my experiences of marginalization, migration, acculturation, and identity formation. I touch upon the themes of transient nature of belonging and my positionality in a settler-colonial state." 
Poetry from the zine Home is a Makeshift Haven, written by Saira Khan: 
Home is a makeshift haven 
I have many names for home,
they morph into one another on my tongue //
watan, ghar, makaan, hadeed, malir, karachi, wah, dunya, deen, dil, khuda, aap, mein, hum  
I wasn't the only one who left home //
home was a traitor for leaving me too,
agonizing my soul, engulfing me whole  
Home will remain a city that didn't love me back //
a land named pure // a land that felt foreign  
The home that was supposed to be my refuge
was built on someone else's home //
I didn't wish to be an intruder, yet I am one 
Home is forever changing and flawed as me  
I have forgiven home for being amorphous //
I let it be a transient feeling, a familiar scent, a lovely moment //
nothing lasting, nothing grand 
Home is now a journey of being a
migrant in this land,
migrant through time,
migrant through this life.