Q & A: Dean Dexter Voisin reflects on the challenges and successes of his tenure at FIFSW
Categories:
Dexter Voisin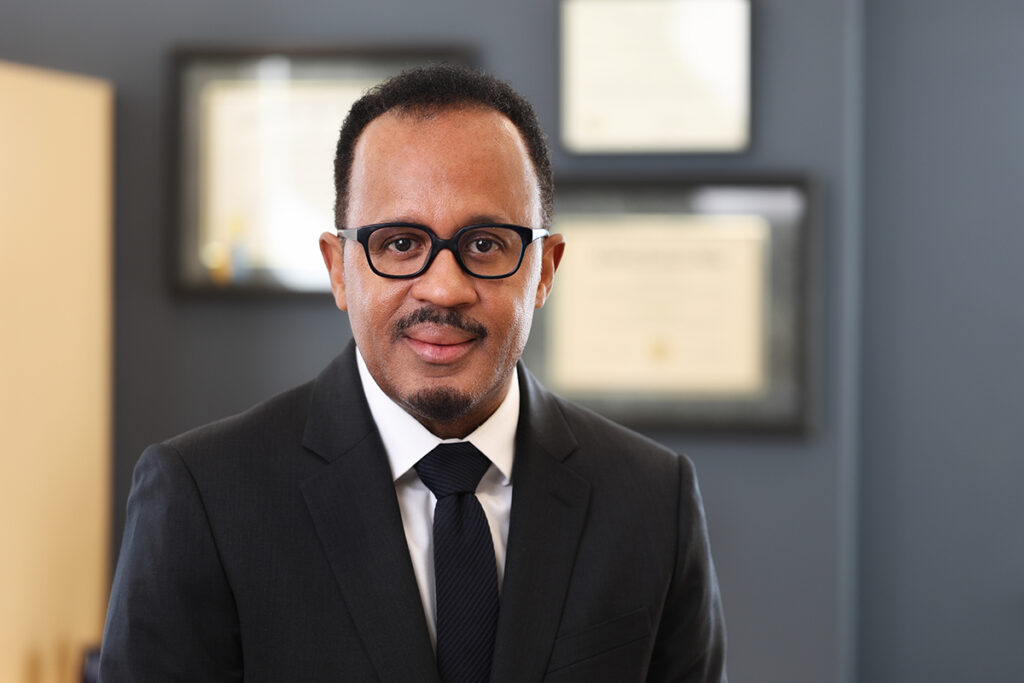 As Professor Dexter Voisin prepares to step down from his role as dean of U of T's Factor-Inwentash Faculty of Social Work at year's end, he's reflecting on the challenges and successes of his tenure.
Voisin previously spent two decades at the University of Chicago, where he devoted much of his career to exploring the impact of structural, neighbourhood and police violence on urban racialized youth. This subject is the focus of his 2019 book America the Beautiful and Violent: Black Youth and Neighbourhood Trauma in Chicago. At U of T, he co-chaired the Anti-Black Racism Task Force, which delivered its final report in spring 2021.
Voisin will begin his new position as the Jack, Joseph and Morton Mandel Dean in Applied Social Sciences at the Jack, Joseph and Morton Mandel School of Applied Social Sciences at Case Western Reserve University in January 2022. He recently spoke with writer Megan Easton about the unprecedented context of his time here, what he's proud of, what he learned and what he'll miss.
---
What was it like to lead the Faculty during the COVID-19 pandemic?
During the first six months I had "listen and learn" sessions with over 70 faculty, staff, community partners and university leaders — and then COVID-19 hit. Looking back, I see how crucial it was to build relationships in person. Those early face-to-face relationships were critical to building trust within the FIFSW community and us later banding together to address the challenges ahead where there was no road map. The exceptional support from my decanal colleagues, the provost and central administration was pivotal to me and the Faculty moving through and thriving during the pandemic.
Looking back on the past two and a half years, what accomplishments are you are most proud of?
Despite the pandemic, we maintained strong research productivity, and secured two new Canada Research Chairs. We also obtained the Lee Wu Kee Ming Chair in Indigenous Social Work. This historic chair is important to the Faculty and the profession because it will increase our capacity to address the needs of Indigenous communities — a top priority for social work, the University and the field.
We continued to leverage our urban location, built more community partnerships, strengthened our relationships with external stakeholders like the mayor's office, and other government leaders. We hired the faculty's first senior communications strategist which elevated our profile, within U of T, nationally and internationally.
I'm especially proud of how we have continued to diversify the student body. In addition, our international student applications rose by 300 per cent, and international student enrolment went from two per cent to approximately 10 percent, which enriches learning within our entire community. We have increased the representation of diverse excellence at our senior staff level and emphasized social workers as leaders. At the height of the pandemic we launched Talk it Out — a free online mental health counseling clinic supported by supervised MSW students. All of these advances helped us to significantly exceed our usual advancement totals.
Working alongside this outstanding group of faculty, students, staff and alumni has been one of the highlights of my academic career. Time and time again, in my interactions with them, I would think, 'Do they really know how truly amazing they are?'
Some of your research has focused on the role of systemic racism in the U.S. How did Canada and U of T compare in this respect?
I found that in general Canadians are very welcoming and that navigating daily life, with regards to public safety and gun violence, is far less complicated and weighted than in the U.S. However, scratching beneath the surface it quickly becomes clear that a lot of the racial inequity seen in in the U.S. is present in Canada. Black and Indigenous persons, for example, are overrepresented in prisons and the child welfare systems.
Simultaneously, Black and Indigenous individuals are underrepresented across the U of T community and Canadian higher education. However, the University is making important strides. I came here as the first Black dean in the university's history, and now we have three as well as a Black associate vice-president and vice-provost. I believe that the prior advocacy around racial equality done by staff, faculty and students and the 2020 summer of racial reckoning, coupled with the work of U of T's Anti-Black Racism Task Force and the University's commitment to mission, have contributed to such inclusive shifts.
The social awakening that took place around the George Floyd incident ripped the band aid off the polite racism that's exists in elite institutions of higher learning, including U of T. I've seen a shifting of the narrative away from so-called colour-blindness to the realities of exclusion and the importance of diverse representation. During my time at the University, I've learned about the importance of being more courageous when engaging in uncomfortable conversations that are of high importance.
How does the anti-Black racism work at U of T relate to the social work profession?
The social work profession has a complicated history of promoting social change while sustaining the status quo and systems of marginalization, as witnessed within the child welfare and correctional systems. Within our Faculty and others, we must courageously address our own anti-Black and anti-Indigenous policies and practices and deficit narratives of BIPOC individuals. We are really only just beginning to grapple with the colonial ideologies and pedagogies that have dominated the profession for more than 100 years.
What will you miss most about the Factor-Inwentash Faculty of Social Work?
I will miss the reopening of in-person learning that is planned for winter 2022. I will miss interacting in-person with FIFSW's students, staff and faculty. I'll greatly miss my decanal colleagues and supporting the ambitious agenda of the President and Provost.
The pandemic halted my chance to fully explore Toronto, though I did discover Kensington Market, which was one of my favourite places to go on the weekend. However, Cleveland is only a few hours from Toronto, and I plan to come back and visit.
What will you be watching for at the Faculty in the coming years?
I anticipate a growing number of community partnerships, more Canada Research Chairs and an increase in the global profile of the Faculty. I also expect that the reach and impact of the new Centre for Research and Innovation for Black Survivors of Homicide Victims (CRIB) and the Talk-it-Out Clinic will expand significantly. I look forward to seeing FIFSW's growing impact and success.
---
Photo by Harry Choi