2023 Jewish Heritage Month: Resources & Events
Celebrated in May, Canadian Jewish Heritage month was established in 2018 to provide an opportunity to remember, celebrate and educate future generations about the inspirational role that Jewish Canadians have played and continue to play in communities across the country.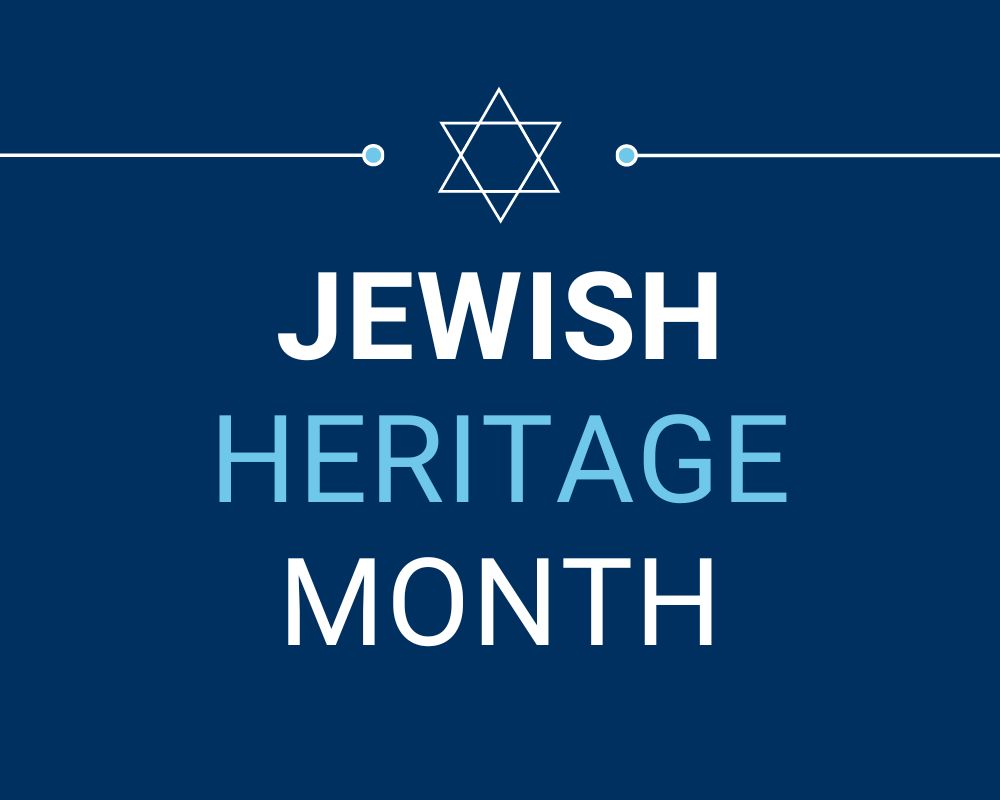 ---
Upcoming events
Understanding Antisemitism on Campus
Facilitated by: Jacqueline Dressler, Manager of Advocacy at Western Hillel and Hillel at the University of Toronto
May 15, 2023, 10am – 12pm
Virtual 
Over the past several years, there has been an unprecedented increase in antisemitic incidents at the University of Toronto – and Jews remain the most targeted group for hate crimes in Canada. 
In order to combat antisemitism in all its forms and expressions, this seminar will explore the historical framework of antisemitism along with the history of the Jewish people, as well as recommendations for how to identify, reduce, and address antisemitism. 
Learning Objectives: 
Understand the history and diversity of the Jewish people;

 

Learn about the history of antisemitism and its modern manifestations;

 

Gain confidence in how to recognize, address, and respond to antisemitism in our campus community – creating more inclusive spaces for all.

 
This workshop is open to U of T students, faculty and staff.  
Full details & registration are available on U of T's Anti-Racism and Cultural Diversity Office (ARCDO) website. 
Reflecting on Jewish & Indigenous Stories – A live recording of the Rivkush Podcast with Special Guest Jennifer Podemski
Hosted by the Canadian Race Relations Foundation in partnership with Canadian Jewish News
May 28, 2023, 6:30 to 8:30pm
Holy Blossom Temple (1950 Bathurst St, Toronto)
In the infamous Sixties Scoop, the Canadian government forcibly relocated tens of thousands of Indigenous children, separating them from their families and placing them in foster homes or adoptive households. Little Bird, a new show by Crave and APTN, premiering May 26, follows one young woman who was taken from her reserve in Saskatchewan at the age of five and raised in a Jewish home in Montreal, having her name changed from Bezhig Little Bird to Esther Rosenblum. In her 20s, Bezhig returns to the Prairies to find the family she lost and discover the secrets of her past.
Join us for an in-depth conversation about this poignant new program with acclaimed actor and producer Jennifer Podemski, who has First Nations and Jewish heritage, and who co-created Little Bird with playwright Hannah Moscovitch. Podemski will speak with Rivka Campbell, host of CJN podcast Rivkush, the only podcast dedicated to spotlighting Jews of colour, sponsored by the Canadian Race Relations Foundation.
> Learn more and register here
---
Learn about the history of FIFSW partners
Jewish Family & Child Service of Greater Toronto (JF&CS)
JF&CS got its start in 1868 with the establishment of the Ladies' Sick Benefit Society, created by the first female Jewish residents in Toronto. Learn about the history of JF&S via an online exhibit, created in honor of the agency's 150th anniversary in 2018. 
Baycrest Health Sciences Centre
Baycrest was born as the Toronto Jewish Old Folks Home in 1918. A timeline of its history is available on its website. Read more via the Ontario Jewish Archives. 
Sinai Health System
In August of 1913, four immigrant women from Toronto's Jewish community started knocking on neighbourhood doors to raise money for a hospital that would give Jewish doctors a place to practice. Learn more about Mount Sinai's history via its website.

Stay tuned for our story recognizing Mount Sinai's 100th anniversary!
National Council of Jewish Women of Canada, Toronto
Established in Toronto in 1897, NCJWC now also has sections in Winnipeg, Edmonton and Vancouver and members in other Canadian cities. Visit NCJWC's website to read more about its history and programs. 
---
Resources
Periphery 
Periphery is a photographic and film project that bears witness to ethnic diversity in the Jewish community. Learn more here. 
National Film Board
The NFB has curated selection of films that celebrate the important contributions that Jewish Canadians have made to Canada's social, economic, political and cultural fabric. 
Celebrating Canada – The Jewish Experience
View an online exhibition on the Canadian Jewish Experience, created in conjunction with Canada's 150 anniversary in 2017. 
Report of the University of Toronto's Antisemitism
Working Group
Read the Report of the University of Toronto Anti-Semitism Working Group and the University of Toronto's formal Response to that report. 
Antisemitism in our Midst: Past and Present
This video, by Berkeley Hillel, charts the history of antisemitism from its origins until today. 
Annual audit of Antisemitic incidents 2022
Since 1982, the Annual Audit of Antisemitic Incidents has served as the authoritative document on antisemitism in Canada. The data expressed in the Audit, produced each year by B'nai Brith Canada's League for Human Rights, reflect the level of antisemitic incidents reported to, and monitored by, the League. 
Toronto For All – Confronting Antisemitism
This Toronto for All campaign brings attention to antisemitism in Toronto and calls on Torontonians to take action to confront it and eliminate it.
Diversity Dialogue: Irwin Cotler on Contemporary Antisemitism 
The Honourable Irwin Cotler spoke at Temerty Faculty of Medicine during this virtual event on Wednesday January 26, 2022. His talk contains reflections on International Holocaust Remembrance Day, which is recognized each year on January 27. 
Jews Don't Count
In this book, David Baddiel argues that those who think of themselves as on the right side of history have often ignored the history of anti-Semitism. 
Canadian Museum for Human Rights
Published by the Canadian Museum for Human Rights, "The stain of antisemitism in Canada" shines a light on acts of antisemitism in Canadian society and politics, through a story about a resort community in Winnipeg that use to exclude Jewish people.
Key Concepts in the Study of Antisemitism
This book is designed to assist university faculty and students studying and teaching about antisemitism, racism, and other forms of prejudice. 
United Nations Special Rapporteur on freedom of religion or belief
The UN's Special Rapporteur on freedom of religion or belief explores the global phenomenon of antisemitism and its impact on the right to freedom of religion or belief of Jewish individuals and communities worldwide.
Antisemitism on Campus
Jewish students from McGill University and TMU talk about their experiences with antisemitism on campus on The Agenda with Steve Paikin.
Celebrating Jewish Canadian History: Canadian Jewish Medical History
This video was created by the Canadian Race Relations Foundation in partnership with the team at Ontario Jewish Archives, as well as with David S. Koffman, the J.Richard Shiff Chair for the Study of Canadian Jewry at York University's Koschitzky Centre for Jewish Studies. 
---
We will be sharing more stories on our alumni and partners over the month of May.
Do you have an event or resource you would like to share? Email associate.dean@utoronto.ca!