Rainbow Rendezvous: A 2SLGBTQ+ Research Mixer
June 8 @ 6:00 pm

-

8:30 pm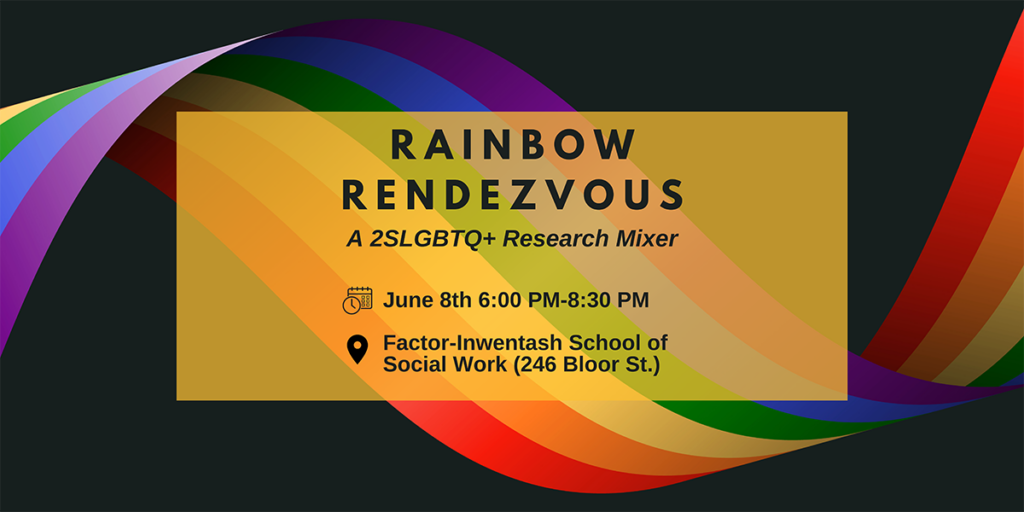 To kick off pride month, the International Partnership for Queer Youth Resilience (INQYR) is launching Rainbow Rendezvous, a 2SLGBTQIA+ Research Mixer event intended to provide an opportunity for both emerging and established 2SLGBTQIA+ researchers across local universities to connect, network, and hear about each other's experiences.
This in-person event will take place on June 8th, from 6:00-8:30 PM at the Factor-Inwentash School of Social Work (246 Bloor St W). Food and refreshments will be provided. Everyone conducting or interested in queer research, regardless of academic experience, is welcome to attend this event. A brief itinerary of the event is provided below. More information can be found on INQYR's website.
Please RSVP by June 6th, 2023
Keynote panel: QTBIPOC in the Academy: Perspectives, Experiences, & Discourse
This panel highlights the voices and experiences of QTBIPOC academics and scholars. The panellists will discuss their experiences as BIPOC in higher education and how their research and scholarship work are influenced by the intersections of race, culture, queerness, sexual orientation, and gender identity.
Panellists:
Dr. Lance T McCready (Associate Professor, OISE, University of Toronto)
Dr. Tin Vo (PhD, Faculty of Social Work, Wilfrid Laurier University)
Egag Egag (Master of Social Work, University of Toronto)
Jenny Hui (PhD candidate, OISE, University of Toronto)
Upasana Bhattacharjee (PhD, Faculty of Information, University of Toronto)
Moderated by the co-chairs of the Canada Regional Network (Kaitrin Doll, PhD Candidate (they/them); and Dane Marco Di Cesare, PhD (he/him)
Roundtable Discussions
Bushra Ahmed (MSW Candidate, Faculty of Social Work, Wilfred Laurier University): Exploring the Mental Health Experiences of LGBTQ+ Muslim Students in Ontario's Postsecondary Institutions
Keith Cheng (Master of Information candidate, Faculty of Information, University of Toronto): Activist-Academics: Resistance in/of the University
Jenny Hui (PhD candidate, OISE, University of Toronto): "We Rise Together": Exploring the Lived Experiences of East Asian Bisexual Youth in Canada
Dr. Michael Woodford (Professor & Associate Dean: PHD Program, Lyle S Hallman Faculty of Social Work, Wilfred Laurier University): Thriving On Campus: Promoting the Inclusion and Wellbeing of Diverse 2SLGBTQ+ University Students
Ali Pearson (PhD candidate, Factor-Inwentash Faculty of Social Work, University of Toronto): Neuro Queer-iosity: Mapping the Intersection of Neurodiversity and Gender/ Sexual Diversity in Social Work
Dr. Dane Marco Di Cesare (Assistant Professor, Faculty of Education, Brock University) and Kaitrin Doll (PhD candidate, Factor-Inwetash Faculty of Social Work, University of Toronto): The Transformative Power of Smash & Crash: Conducting Intersectional Research within Queer Gaming and Roller Derby Subcultures