Moving the Dial On: Support for Families Affected by Mental Illness
November 30 @ 12:00 pm

-

1:00 pm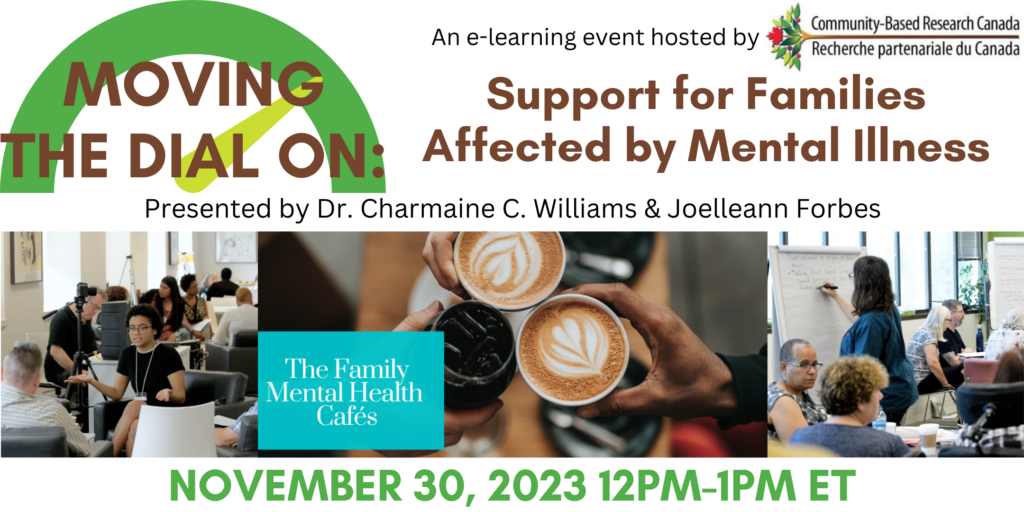 Join CBRCanada in this e-learning event in the "Moving The Dial" series highlighting community-based research making positive social change.
Community-Based Research Canada presents "Moving the Dial": our 2023 E-Learning series. This series will highlight action-oriented community-based research that is 'moving the dial' on today's pressing societal challenges. An important hallmark of community-based research, taking an action-orientated and impactful approach, means research partnerships mobilizing knowledge and mobilizing communities towards positive societal change. The research projects highlighted within this series demonstrate impact of community-based research. We will hear about research partnerships that facilitated actions improving societal conditions, including changes in policies, systems, organizations, and communities where everyone is supported and belongs.
Webinar
The Family Caregiving Project is a research study exploring the experiences of families affected by mental illness, being conducted in collaboration with community mental health agencies in Ontario. Unlike most other research on caregiving in the context of mental illness, this study focuses on the entire family, including those diagnosed with mental illness as family members and active participants in the navigation of caring needs. The project includes three components: 1) a series of family mental health café experiences that were held in Ontario through 2019-20; 2) an online survey of caregiving families in Ontario; 3) and in-depth interviews with families. The work of the project is ongoing.
The project has moved the dial by disseminating research findings to the public, community mental health agencies, and health professional educators to redefine family support as including diagnosed individuals in the promotion of family mental health, and finding ways to promote open discussion about how the family manages caregiving and care-receiving for all family members. Videos are being used in health profession education and numerous educational resources are available on our website. Available resources include: 1) an educator's guide to support training of health care students and providers supporting families, 2) a facilitation toolkit to host your own Family Mental Health Café, 3) a discussion guide for community groups, and 4) a workbook to help families discuss caregiving issues.
Presenters
Dr. Charmaine C. Williams, Dean & Professor, Sandra Rotman Chair in Social Work, University of Toronto. Charmaine C. Williams is Dean and a professor at the Factor-Inwentash Faculty of Social Work at the University of Toronto. Her research bridges practice and access and equity issues that affect various populations including racial minority women, LGBTQ individuals in a local and international context, and individuals and families affected by serious and persistent mental illnesses. The majority of her practice experience has been as a clinician in the mental health care system. She has also been involved in organizational change initiatives in the health care sector and has extensive experience developing and delivering professional education in the areas of anti-racism, cultural competence, mental health and addictions. Information about her research is available at: https://discover.research.utoronto.ca/115-charmaine-c-williams
Joelleann Forbes, Registered Social Worker, Psychotherapist, Sessional Lecturer, University of Toronto. Joelleann Forbes is a social worker and psychotherapist registered with the Ontario College of Social Workers and Social Service Workers. She is also a sessional lecturer at Factor-Inwentash Faculty of Social Work, University of Toronto and the co-founder of Hope Leads Mental Health Care. She has spent many years providing mental health care in various settings, including a community health centre, hospitals, and private practices. She holds a BA in Bioethics and a Master of Social Work degree from the University of Toronto, and has also received training in cognitive behavioural therapy, dialectical behavioural therapy, acceptance and commitment therapy, narrative therapy, and motivational interviewing. Her practice philosophy reaffirms the importance of empowering communities, addressing the social determinates of health, honouring intersecting identities, and engaging in anti-oppressive and anti-racist practices. Further, she has provided clinical supervision and training to masters-level social work students and peer counsellors. Joelleann has co-authored multiple peer-reviewed articles and book chapters on topics such as Africentric clinical practice, mental health, community care, spirituality, and LGBT human rights.
*This event is intended for CBRCanada members only. If you are employed, studying, or affiliated with any CBRCanada member institution/organization, you are already considered a member. If you are unsure if your institution is covered, learn more here. Individuals whose institution is not on this list are welcome to register as an an individual member. We value community participation and have a free membership option for registered community mobilizers.