Making Black Lives Matter: Three Films about Systems Change
March 1, 2022 @ 7:00 pm

-

8:30 pm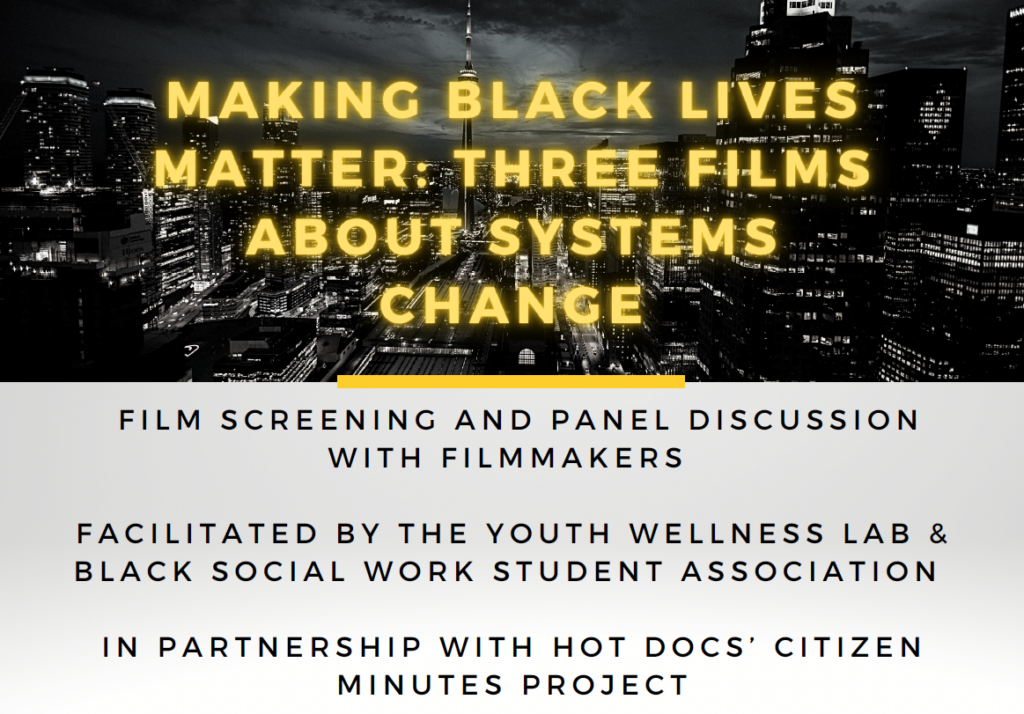 There are systems -criminal justice, social assistance, political representation -that aren't working for children, youth, families, and communities across Canada. But when these systems seem so big, so powerful, how can we as young people and emerging social workers make a difference?
This event will showcase three documentaries that profile different approaches to influencing systemic change, by, with, and for Black individuals and communities. Some are grassroots, while others work within the system. What we hope to learn is that there is no right answer…and no wrong answer to enactingmeaningful change.
You are invited to join us for a special film-screening event, moderated by representatives of the Youth Wellness Lab and the Black Social Work Student Association. Three films will be showcased — Nourrir Les Rêves, Mending a Crack in the Sky, Body Politics — followed by a unique opportunity to engage in discussion with the film-makers. These films were made possible by Hot Docs' Citizen Minutes Project.
Hot Docs is a not-for-profit organization dedicated to advancing and celebrating the art of documentary and creating production opportunities for documentary filmmakers.
Registration is limited so reserve your spot today!
Zoom details will be sent following registration.
Questions? Please contact Dr. Stephanie Begun at Stephanie.begun@utoronto.ca.
Films
Body Politics
In a fatphobic image-conscious world, educator, activist and eccentric cat-lady-turned-politician Dr. Jill Andrew takes her fight for body justice, human rights, representation, access and equity to the legislature as the first queer Black person elected as a member of provincial parliament. Here's a glimpse into a 40 year story of becoming told through the eyes of her filmmaking partner…Don't blink! 
Mending a Crack in the Sky
Shamso Mohamoud and Shamso Elmi both lost their sons to violence and watched their alleged killers walk free without so much as a legal prosecution. Now, the two Somali-Canadian mothers have organized a group "Mending a Crack in the Sky" to collectively combat gun violence and hardship while facing cultural and racial barriers. 
Nourrir Les Rêves
In 2007, Lasallien Center opened their doors in St-Michel—one of the most disadvantaged boroughs on the island of Montreal. Meet Paul Evra, the young altruistic director who grew up there and is leading the center and their mission to help feed the numerous families in the area who are food insecure.