Janis Rotman Distinguished Lecture Series On Mental Wellness: Lessons Learned From Holocaust Survivors
October 19 @ 7:00 pm

-

8:30 pm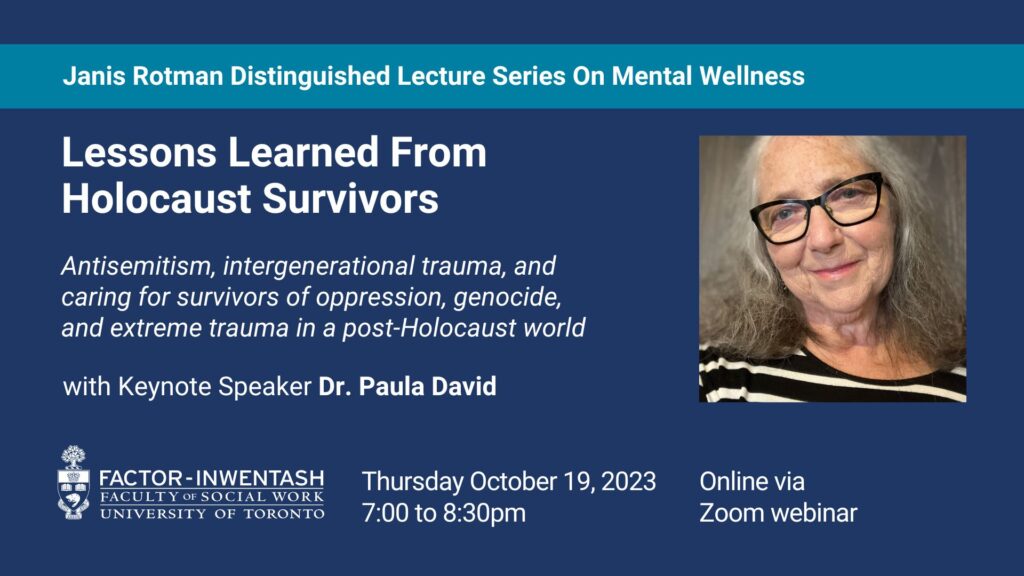 Please join us for a talk on mental wellness by Dr. Paula David entitled "Lessons Learned From Holocaust Survivors: Antisemitism, intergenerational trauma, and caring for survivors of oppression, genocide, and extreme trauma in a post-Holocaust world."
When: Thursday, October 19th | 7:00pm – 8:30pm
Where: Online via Zoom webinar. A zoom webinar link will be sent to all registrants in advance of the event.
About this event:
The Janis Rotman Distinguished Lecture Series On Mental Wellness presents an annual keynote address by a leading researcher, practitioner or educator on topics such as innovations in culturally-attuned mental health services, social work's role in addressing widening mental health disparities, the impact of community-based care, and other contemporary concerns at the intersection of social work and mental health.
We'd like to thank Janis Rotman for her generous support of FIFSW's Talk It Out Online Counselling Clinic, which inspired the launch of this series.
Speaker Bio:
Dr. Paula David (MSW, PhD) has enjoyed a long career working with aging Holocaust Survivors, their families and survivors of subsequent genocides. Based on both her fieldwork and research, she now shares her experience and unique trauma-informed approaches with students of all ages, teachers, health professionals, isolated families, various trauma and genocide survivors, First Nations families and those who care for them. Her many publications on caring for aging survivors and their caregivers have been translated into several languages and they continue to inform professional practice today.
A graduate of FIFSW's MSW and PhD programs, Paula has been active in the social work profession for almost five decades. After retiring from the Baycrest Centre, she then began her second career as an educator at the Factor-Inwentash Faculty of Social Work, teaching full time across the Faculty's Master of Social Work program for four years until retiring again. Paula is currently a frequent guest lecturer, consultant and curriculum developer on the topic of caring for aging Holocaust survivors, and those who have survived subsequent wars, genocide and extreme trauma. Most recently she has been involved in cross-cultural post-memory creative initiatives that integrate her rich experience in the areas of mental health and trauma. 
About the Talk:
There is a critical need to develop culturally-attuned mental health care that is responsive to the diverse needs and lived experiences of Jewish people, their families and communities. At the same time, trauma-informed care is becoming increasingly common and necessary practice for many communities and individuals in today's world.
Holocaust survivors, in sharing their personal testimonies, have left us a legacy of insight and understanding that can inform approaches to mental health practice — not only for the Jewish community, but all communities who experience racialized, ethnic and religious oppression.
This presentation will explore how our understanding of intergenerational trauma, post-traumatic stress disorders, and care for survivors of genocide and extreme trauma has evolved in our post-Holocaust world. The talk will also discuss the effects of antisemitism both past and present, and its pervasive and growing presence in contemporary times.
Recording:
A recording will be shared with all newsletter subscribers after the lecture. If you aren't already a subscriber, please subscribe to FIFSW's newsletter here.