Best Practices in Dialectical Behaviour Therapy (DBT)
December 4 @ 6:30 pm

-

8:00 pm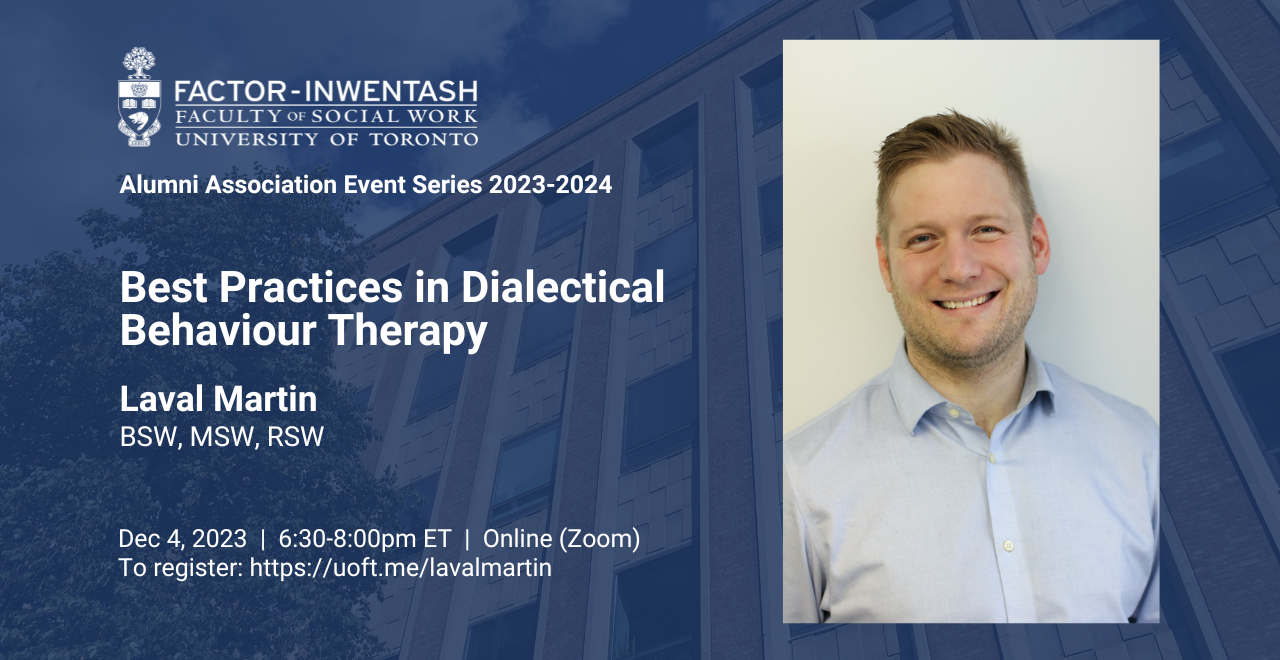 Please join us for our next lecture in the 2023-2024 Alumni Series, presented by the FIFSW Alumni Association, where we will be joined by Laval Martin in an interactive talk titled, "Best Practices in Dialectical Behaviour Therapy."
Alumni, students, faculty and members of the public are all welcome to attend.
When: Monday, December 4, 2023 | 6:30PM – 8:00PM ET
Where: Online (Zoom)
Certificate of Attendance: Participants will be eligible to receive a certificate of attendance for use towards professional development. An e-certificate will be issued to participants who join us for 80% or more of the lecture time.
About the talk
This interactive talk on Dialectical Behaviour Therapy (DBT), led by Laval Martin, a social worker who has been practicing psychotherapy through a DBT lens since 2015, will allow participants to submit their specific questions and areas of interest ahead of time. The content of the talk will be built around the particular areas of greatest interest, based upon the feedback received from attendees through the registration form.
About the speaker
Laval has a life-long love for learning and has been training since 2010. Laval loves empowering people through imparting skills and knowledge. He makes training entertaining and keeps his learners engaged by incorporating real-world stories and examples.
Laval holds both a bachelor's and a master's degree in social work. He has worked in the social work field since 2006, with various populations, including people experiencing mental health challenges, intellectual and developmental disabilities, and homelessness and poverty. He has extensive experience in crisis intervention and conflict resolution from working in group homes, shelters, and drop-ins.
In addition to training, Laval began offering psychotherapy in 2015 and currently has a private practice where he operates primarily through a lens of Dialectical Behaviour Therapy, working with people who experience a variety of mental health and relationship concerns. His undergraduate education focused extensively on anti-oppressive practice. He co-facilitates a peer supervision group for social workers and other helping professionals.
Laval has also practiced various martial arts and self-defense systems since 2001, with a focus on avoiding and de-escalating conflict. He is a full-instructor of Senshido and also holds an instructor certification with Safe International. He has hosted a monthly meetup, Beer and Philosophy Night, since 2014.