FIFSW GSA: From Burnout to Turnout
March 14 @ 12:00 pm

-

1:00 pm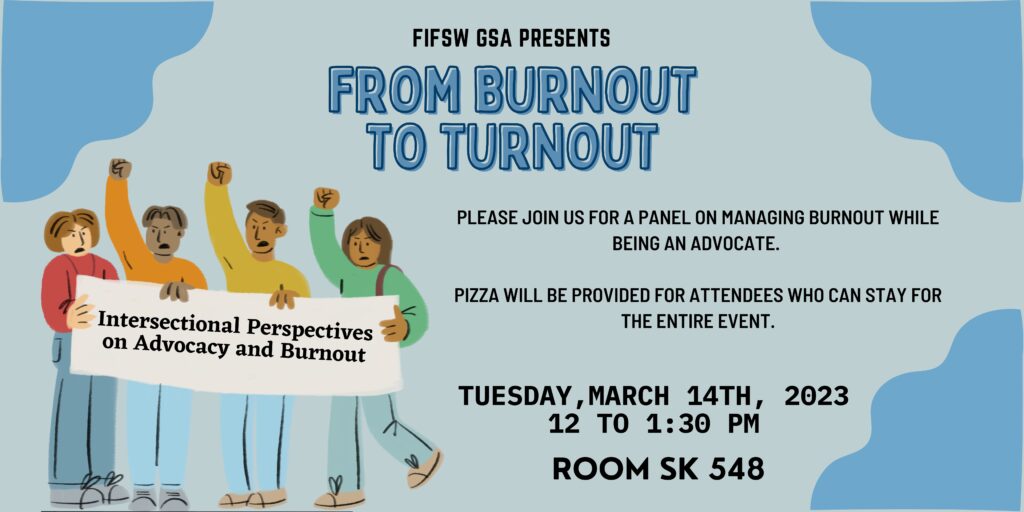 The GSA is hosting a panel in recognition of Social Work Week titled "From Burnout to Turnout: Intersectional Perspectives on Advocacy and Burnout". This is an opportunity to hear from social workers practicing in the field and hear about their experiences in navigating the social work profession as advocates.  Topics of discussion will include navigating burnout, discrimination, and advocacy in fragmented and oppressive systems, among others. Our panelists bring a wealth of intersectional lived experiences with and for the 2SLGBTQIA+, BIPOC, and disabled communities. They have worked with marginalized groups and have extensive knowledge on how to advocate for people who are systemically oppressed.
We have requested the following five individuals to join us to discuss their lived and work experiences. There will be a question-and-answer period to allow attendees to network and discuss with panelists. This will be an opportunity to better understand yourselves and the field through discussion!
The following panelists will be attending:
– Ronnie Ali, RP
– Titus Chan
– Ruben Rosen, RSW
– Tracy De, RSW
– Ali Ahmad, RSW
Note: Pizza lunch will be on provided for folks who both attend and stay for the event. Please be mindful that these individuals are taking time and energy out from their days to commute and provide their knowledge and experiences.