E(Racing) the Masters' tools: Africentric Social Work by and for People of African Descent, with Dr. Delores V. Mullings
March 9 @ 6:00 pm

-

7:30 pm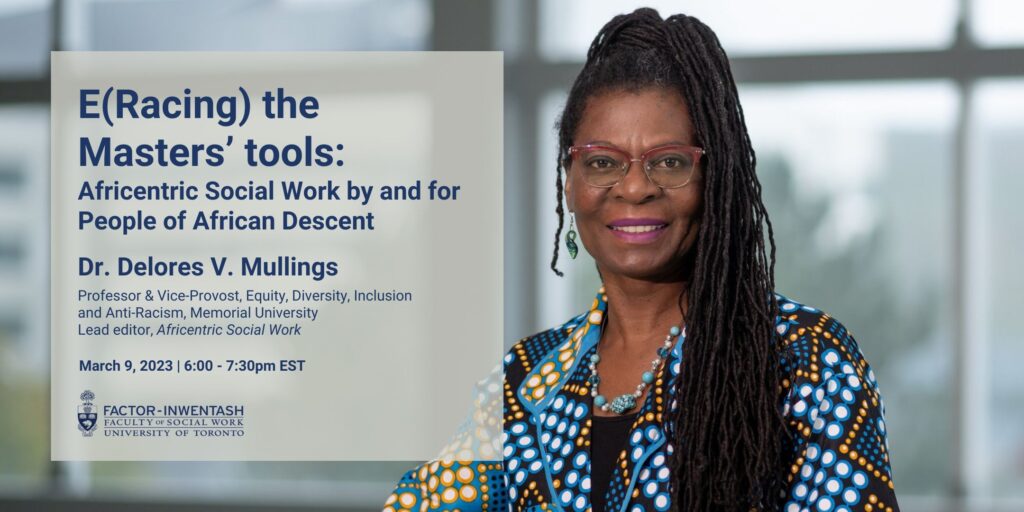 The Factor-Inwentash Faculty of Social work is pleased to present a public lecture by Dr. Delores Mullings, Professor and Vice-Provost, Equity, Diversity, Inclusion and Anti-Racism at Memorial University, and lead editor of the book Africentric Social Work.  
This is a hybrid event with in-person and online attendees. Please note that in-person seating is limited. When reserving a spot, registrants will have the option of selecting an in person or online ticket. We encourage you to reserve your tickets early.
When: Thursday March 9th 2023, 6:00 – 7:30pm EST
Where: In person and online
In person: The Factor-Inwentash Faculty of Social Work, 246 Bloor St W, Toronto, Room 422 – light refreshments available from 5:30-6:00
Online: Zoom. A link will be provided to all online ticket holders 24 hours before the event.
About the talk
Africentric philosophies and principles have helped to shape the Canadian state for over five generations. With their direct, intentional, and persistent actions, African Canadians have influenced all sectors of Canadian society.  
Exercising the knowledge and skills of their lived experience, African Canadian students, practitioners, staff and administrators have carved out a space for social work practice with people of African descent. In this presentation, by Dr. Delores Mullings will build on existing notions of Africentric social work grounded in the understanding that people of African descent have ownership. Her talk will provide leadership in the knowledge production and dissemination of this framework. 
About Dr. Delores V. Mullings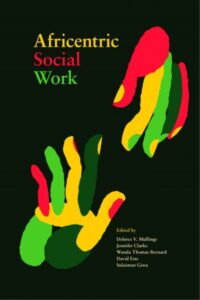 Dr. Delores V. Mullings rests on the shoulders of her African Ancestors who have paved the way, enabling her to be the first among many firsts. She is a member of a large extended family, the mother of two living Black queens, a sister, a friend and the second daughter of Maddah Mullings, her original feminist. She is a full professor and former Interim Associate Dean, Undergraduate Programs at Memorial University's School of Social Work. She is also Memorial University's inaugural Vice-Provost, Equity, Diversity, Inclusion and Anti-Racism — the first Black person and Black woman to hold a permanent senior administrative position at the university.  
Dr. Mullings has a demonstrated history and extensive content expertise in equity, anti-racism and human rights leadership in community-based organizations and academic institutions. Her community-based experience is in hostels and shelters for women who are survivors of intimate partner violence and for those who are street involved, in sexual assault centres and child welfare agencies working with racially and culturally diverse women and their children.   
She brings with her over 40 years of resistance work in organizational change, climate scan, strategic planning as well as anti-racist and decolonizing efforts. Her interdisciplinary scholarship explores decolonizing post-secondary education, mothering, mental health and wellness, LGBTQ+ concerns, the Black Church, elders, settlement and integration and community engagement using critical pedagogies, in particular anti-Black racism, Africentric theory and critical race theory. 
Dr. Mullings is an award-winning, engaging and challenging professor. Her teaching pedagogies have been awarded provincially and nationally. She has been recognized with a YWCA Women of Distinction Award (Education and Mentorship), as a 100 Accomplished Black Canadian Women Honoree, with a President's Award for Outstanding Teaching (Faculty), and through an appointment as Chair in Teaching and Learning in a competitive process in the School of Social Work. 
Dr. Mullings' current research includes Promoting Black students' Mental Health: A Pan-Canadian Research and Intervention Project on Social Determinants of Health and Equity in Canadian Universities, Improving COVID-19 vaccine confidence and uptake among Black Canadians, Black youth mental health after COVID-19 and community inclusion in small urban centres.  
She is the lead editor on Africentric Social Work (Fernwood) and a forthcoming anthology: Black People's Resilience During COVID-19 (Demeter). More recently, she has been focused on using a racial justice lens to explore equity and anti-racism specifically in relation to accessibility and systemic discrimination.