Roxanne Ramjattan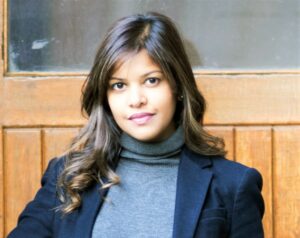 UNIVERSITY OF TORONTO
PhD in Social Work – Entered Fall 2013
UNIVERSITY OF WINDSOR
Master in Social Work – Class of 2010
Bachelor of Arts with Honors in Sociology – Class of 2007
Certificate in Criminology/Criminal Justice and minor in psychology – Class of 2007
CONTINUING EDUCATION
Cognitive Behavioural Therapy (Levels 100, 200 & 300), Alder Centre for Learning – December 2016
Dialectic Behavioural Therapy (Levels 100, 200 & 300), Nevada Psychological Association – April 2013
Trauma-Focused Cognitive Behavioural Therapy, Medical University of South Carolina – February 2013
RESEARCH INTERESTS: child welfare, policy, simulation, education, and mental health
Roxanne Ramjattan is currently a 4th year PhD student at the Factor-Inwentash Faculty of Social Work, University of Toronto.  Ramjattan's Research Assistant and Project Coordinator experience include projects such as; "Using Simulation to Educate Social Workers Project" and "Maintaining a Working Relationship with Clients when Reporting Suspected Child Maltreatment."
Ramjattan is a Registered Social Worker and actively practicing in the mental health field.  Ramjattan has a vast background in the field of child welfare and mental health. She was employed for agencies such as; Gerstein Centre, IMAGINE Student Clinic, Children's Aid Society, Griffin Centre, and United Way.  Roxanne has a passion for clinical social work and has refined her counselling skills with courses in Cognitive Behavioural Therapy, Dialectic Behavioural Therapy and Mindfulness Training.  Her passion led her to found Three Doors Therapy, an individual and couple counselling service in Toronto.
Personal Website: www.threedoorstherapy.com
LinkedIn: https://ca.linkedin.com/in/roxanne-ramjattan-0ba1b675
PUBLICATIONS
Bogo, M., Lee, B., McKee, E., Ramjattan, R. & Baird. (2016) Field instructors' perceptions of foundation year students' readiness to engage in field. Social Work Education: The International Journal, 35(2), 204-214.
Bogo, M., Lee, B., McKee, E., Ramjattan, R. & Baird. Bridging class and field: Field instructors and liaisons reaction to information about students' baseline performance derived from simulated interviews. Journal of Social Work Education. Submitted July 2015 – Accepted.
Tufford, L., Bogo, M., Lee, B., Katz, E., Ramjattan, R. (2014 – 2016). Manual: Maintaining a working relationship with clients when reporting suspected child maltreatment: Using simulation in education.
ACKNOWLEDGEMENTS
Brittain, M. & Blackstock, C. (2015). First Nations child poverty: A literature review and analysis. First Nations Children's Action Research and Education Service (FNCARES). Retrieved from: https://fncaringsociety.com/sites/default/files/First%20Nations%20Child%20Poverty%20-%20A%20Literature%20Review%20and%20Analysis%202015_3.pdf
INTERVIEW
Flanigan, R. (January 5, 2016). Growing older with bipolar. BP Magazine, The Coming of Age, Winter 2016 edition. Retrieved from: http://www.bphope.com/growing-older-with-bipolar/
VIDEO
Bogo, M., Katz, E., Lee, B., Ramjattan, R. (2015). Video 2–Using Simulation in Assessment and Teaching: OSCE Adapted for Social Work. University of Toronto, Factor-Inwentash Faculty of Social Work. Council on Social Work Education. Retrieved from:  https://www.youtube.com/watch?v=JMvsgNVBrtk
CONFERENCES
Baiden, P., Ramjattan, R., & Fallon, B. (June 4, 2015). Examining the association between suicidal behaviours and referral for psychiatric services: Findings from the 2008 Ontario Incidence Study of Reported Child Abuse and Neglect. National CASWE-ACFTS Conference. Ottawa: Ontario.
Brien, N., Tarshis, S., Lacombe-Duncan, A., Baird, S., Fahim, M., & Ramjattan, R. (June 9, 2015). Contemporary Issues & Marginalized Women in Canada. 2nd International Conference on Advances in Women's Studies – Women and Globalization. Toronto, Canada.
CO-FACILITATOR/GUEST LECTURER
Course: Violence in Families GS/SOWK 5980
Co-Facilitator: Week 6: Children's Exposure to Family Violence
Professor: Natasha Brien
University: York University
Course: Advanced Social Work Practice in Mental Health SWK 4631H
Co-Facilitator: Week 8: February 25, 2014 Mentalization-Based Treatment (MBT) and Week 12: March 25, 2014 Mental Illness and Complex Trauma
Professor: Dr. Carmen Logie
University: Factor-Inwentash Faculty of Social Work, University of Toronto
Course: Social Policy and Social Welfare in the Canadian Context SWK 4102H
Guest Speaker at Symposium: Fall 2015 on Social Welfare and the Greater Toronto Area
Professor: Dr. Michael Shier & Sarah Tarshis
University: Factor-Inwentash Faculty of Social Work, University of Toronto