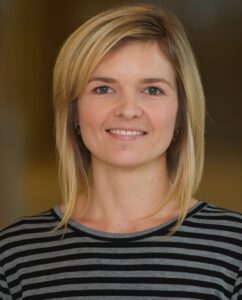 Arija Birze
Biography:
Arija Birze, PhD, is a stress and trauma researcher, focusing on the gendered organization of work and how it shapes biological, psychological, social, and embodied experiences of stress and trauma in high-stress occupations such as public safety and first responders. She has ten years of experience in multi-site project management, coordination, interdisciplinary qualitative and quantitative research design, implementation, data collection, and analysis. 
Currently, Arija is a postdoctoral research fellow at the Factor-Inwentash Faculty of Social Work where she is examining traumatic exposures in the criminal justice workplace, specifically with those who must, as part of their employment, consume, analyze, evaluate and/or categorize, and deliberate potentially traumatic video content of violent crimes. With little to no comprehensive or consistent policies on the management of such material, its handling is highly variable, and its impact is largely unknown. This qualitative project, thus, scrutinizes the traumatic impact of the growing pervasiveness of high-quality video and audio recordings of violent crimes.  
Dr. Birze received her PhD from the Social and Behavioural Health Sciences at the Dalla Lana School of Public Health, University of Toronto. Her doctoral work included a mixed methods study on acute and chronic occupational stress in 911 call-takers and dispatchers where she examined individual, social, and organizational factors associated with post-traumatic stress symptoms and physical health outcomes of workers. Her work integrated different types of data (physiological measures such as cortisol and allostatic load, surveys, and qualitative interviews and observations) in novel ways in order to highlight how social experiences get 'under the skin', thereby substantiating gender as a social determinant of health.