MSW student Zana London is recognized for her work to increase access to care and promote holistic approaches to mental health prevention and support
Categories:
Students
Each year, the Hilary M. Weston Scholarship is awarded to up to two graduate students enrolled in full-time social work programs at an Ontario university to support their research in the mental health field. This year, Factor-Inwentash Faculty Master of Social Work student Zana London is one of two recipients of the award.
On March 22, the Honourable Elizabeth Dowdeswell, Lieutenant Governor of Ontario, was joined virtually by Lisa MacLeod, Minister of Heritage, Sport, Tourism and Culture Industries; Michael Tibollo, Associate Minister of Mental Health and Addictions; and the Honourable Hilary Weston to present the scholarships. Amar Ghelani, a PhD student in the faculty of social work at Wilfrid Laurier University, is the other recipient of the award.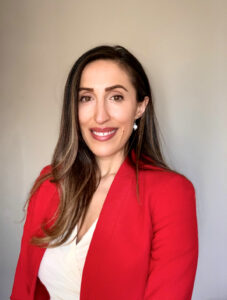 "Mr. Ghelani and Mrs. London are excellent choices for this scholarship as they represent the values that make our province great," said Minister MacLeod. "Their passion and drive to close gaps and break down barriers in the mental health field is helping us better understand and support those living with mental health challenges. I offer my congratulations to both recipients and wish them all the best in their future endeavours."
London (pictured, left) was honoured with the scholarship in recognition of her advocacy for patient care and holistic approaches to mental health prevention and support. The award will help her continue her studies and her work in mental health prevention and support.
"Over the past year, it has become increasingly obvious how important mental health is to the underpinning of our country, our communities, and our families," says London. "I am incredibly grateful to be a recipient of this award, but even more grateful that together, we will continue to make meaningful contributions to the field of mental health."
London became interested in social issues and the value of giving back to her community through compassion and service from an early age.  After working as a pharmacist, she discovered that the current medical model was built to manage acute diseases typically with medication, as opposed to an integrated approach incorporating counselling.
London pursued advocacy work as the Manager of Patient Care for Shoppers Drug Mart and increased access to care for 2,000 community locations across the country. Furthermore, as the previous Director of Patient Experience, London developed and led mental health seminars for 60,000 patients across the United States with groups including The Heart Failure Society of America, The Attention Deficit Disorder Association, and NeedyMeds which supports individuals who cannot afford their medications.
As a dual health care professional, London plans to provide counselling for families and women in perinatal care. She is especially passionate about this area given the growing rates of anxiety and depression in both prenatal and postpartum periods, which can negatively impact child development both mentally and physically.
London is committed to leveraging her experiences and training in both medical and social fields to change the face of mental health for the better.
---
More student news: