Back to school 2020: Welcome to FIFSW!
Message from the Dean
"The true focus of change is never merely the oppressive systems we seek to change but the oppressor that is planted deep within each of us." —Audre Lorde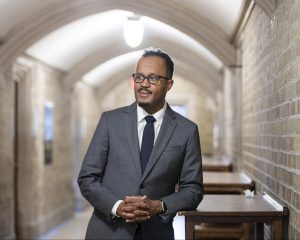 Welcome to Canada's first and oldest faculty of social work. But more importantly welcome to the social work profession. You have come to FIFSW and the social work profession at a time when the world is deeply troubled and in the midst of a global COVID-19 pandemic, economic instability and racial reckoning. It is also a time of great expectation, fuelled by the unembellished recognition that all of our lives and futures are tightly woven together.
You have come to the profession at a time when there are also growing calls from communities across Canada and North American to reimagine policing and remedy our broken criminal justice, child welfare and mental health systems. Many of our Faculty are working at the intersection of these systems while addressing how immigration and migrant status, race/ethnicity, life course development, sexual orientation, and the larger social determinants of health impact successful outcomes for clients and communities. I strongly encourage you to get to know our internationally recognized faculty, to discover and get involved in their projects, or to simply reach out and get to know us.
An effective FIFSW degree in social work will enable you to advocate for clients, improve client systems, and enact social change. However, to truly prepare you to be an effective social worker in the 21st century, we must also challenge you to courageously confront and address the myriad ways in which this profession has helped but also hurt marginalized communities. We must embrace the hope for change and work towards change together.
Social workers have been at the foreground of social and societal change. Together we can make a difference, and we are delighted that you have joined us in this mission. I look forward to meeting you during your time at FIFSW.
Dexter R. Voisin,
PhD Dean & Professor
Sandra Rotman Chair in Social Work
---
Welcome — from FIFSW faculty!
Featured in the Video:
Dexter R. Voisin, Dean of FIFSW Professor
David Burnes, Associate Dean, Academic Associate Professor
David Brennan, Associate Dean, Research Professor
Eileen McKee, Assistant Dean, Field Education
Keith Adamson, SWK4510H Course Coordinator Assistant Professor
Stephanie Begun, SWK4102H Course Coordinator Assistant Professor
Bryn King, SWK4107H Course Coordinator Assistant Professor
Marion Bogo, SWK4605H Course Coordinator Professor
Ka Tat Tsang, SWK4103/4105/4602H Course Coordinator Professor
---

3 Questions for students and Faculty
Classes will be held virtually this fall, but that shouldn't prevent the newest member of the FIFSW community from getting to know their colleagues. To help, we asked some of the students and faculty who participated in Orientation (and a few more to boot) to share what motivated them to study social work, advice for new student and at least one thing they are looking forward to in the year ahead. Read their answers here.