Rupaleem Bhuyan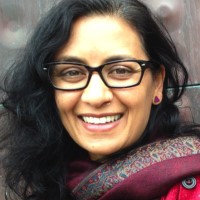 Title(s):
Associate Professor; Ph.D. University of Washington
Phone Number:
(416) 946-5085
Research Interests:
Political Social Work & Anti-Oppression Practice
Globalization, Migration, Citizenship and Social Rights
Anti-violence Advocacy & Social Movements
Post-structural, Feminist, Critical Race, and Post-Colonial theories
Interpretive Methodologies & Participant Action Research
Biography:
Rupaleem Bhuyan is an Associate Professor in the Factor-Inwentash Faculty of Social Work. She is a second-generation immigrant of Assamese/Indian heritage. She was born and raised in the United States and has lived and worked in the U.S., France and Thailand.
Dr. Bhuyan has an interdisciplinary background in International Studies, Cultural Anthropology and Social Welfare. Her research integrates interpretive policy analysis and community-based participatory action research to address the sociocultural and political context of migration, social rights, and gender based violence. Since 1991, Dr. Bhuyan has been part of the anti-violence movement as a peer-rape prevention educator, domestic violence and sexual assault advocate, community educator and community-based researcher. She has worked closely with indigenous, immigrant and refugee communities in addition to collaborations with advocates in organizations serving the general population.
Dr. Bhuyan's research explores how the growth in temporary and precarious immigration impacts immigrants' access to social and health care services, with direct repercussions on their response to domestic violence and related health sequelae. She is currently the principal investigator for the Migrant Mothers Project, a participatory action research project that works in collaboration with a network of community-based organizations, women's rights and immigrant rights groups, and grassroots activists. This research documents different forms of inequality that are produced through Canada's immigration system that intersect with the spectrum of violence against women. Though our research and community organizing efforts, the Migrant Mothers Project aims to foster deeper knowledge about the inequities that shape our lives and to identify strategies for collectively bring about changes that improve the dignity, and human rights for all.
Dr. Bhuyan teaches courses in the first and second year of the MSW program. She is the Coordinator for the Social Justice and Diversity Field of Specialization and an affiliate member of the Women & Gender Studies Institute and the Centre for Critical Qualitative Research at the University of Toronto.
Current Academic & Community Service
| | |
| --- | --- |
| Fellow | Centre for Critical Qualitative Health Research (2018 – present) |
| Leader | Gender Equality Network Canada (2018 – present)  |
| Co-Editor in Chief | Affila: Journal of Women and Social Work |
| Board Member | CERIS: Bridging Migration Research, Policy and Practice (2014 – present; Managing Board Member: 2013-present) |
| Member | Rights of Non-Status Women Network (2011 – present) |
| Member | WomenAct: Women Abuse Council of Toronto (2010 – present) |
| Steering Committee Member | Migrant Women's Rights Count: An Anti-Human Trafficking Project (2016 – present) |
| Advisory Member | Prevention of Sexual Violene and Harrassment Project: Ontario Council of Agencies Serving Immigrants (2016-2017) |
| Member | Law & Society Association |
| Member | Society for Social Work Education |
Book Chapters:
Bhuyan, R. and Ramsundarsingh, S. (2018). Domestic Violence in the Indian Diaspora: Theorizing Intersecting Oppressions in Canada and the United States." In Hedge, R. and Sahoo, A. (Eds). Routledge Handbook of the India Diaspora. London and New York: Routledge.
Bhuyan, R., Genovese, F., Mehl, R., Osborne, B.J., Pinton-Perez, M., and Villanueva, F. (2014). "Building solidarity through consciousness raising in feminist,  participatory action research". In Wahab, S. Gringeri, C. and Anderson-Nathe, B. (Eds). Feminisms in social work research: The promise and possibilities for justice-based knowledge. Routledge.
Bhuyan, R. (2013). "People's priorities change when their status changes": Negotiating the conditionality of social rights in service delivery to migrant women. In L. Goldring and P. Landholt (Eds.) Precarious legal status in Canada: Theorizing non-citizenship and conditionality. Toronto: University of Toronto Press.
Bhuyan, Rupaleem, Woochan Shim and Kavya Velagapudi (2010). Domestic Violence Advocacy with Immigrants and Refugees. In Lockhart, Lettie L. and Fran Danis (Eds.) Domestic Violence Mosaic: Culturally Competent Practice with Diverse Populations. Columbia University Press.
Bhuyan, Rupaleem (2007). Navigating Immigration, Gender, and Domestic Violence: Domestic Violence Advocacy with Work Visa Holders. In Shamita Das Dasgupta (Ed.) Body Evidence: Intimate Violence against South Asian Women in America. Rutgers University Press.
Publications In Refereed Journals:
Sakamoto, I., Syed, M. A., Zhang, H., Jeyapal, D. Ku, J., and Bhuyan, R. (2018). Social work with immigrants and the paradox of inclusive Canadian identity: Toward a critical view of 'difference.' Canadian Social Work Journal. 20(1), 88-110.
Bhuyan, R., Korteweg, A. C. and Baqi, K. (2018). Criminalizing "Marriage Fraud" at multiple borders: The Gendered and Racialized Effects of Structurally Embedded Borders. Law & Policy, 40(4), 346-370. https://doi.org/10.1111/lapo.12111
Bhuyan, R., Valmadrid, L., Panlaqui, M.E., Lopez, N.L., and Juan, P. (2018). Responding to the Structural Violence of Migrant Care Work: Insights from Participatory Action Research with Migrant Caregivers in Canada. Journal of Family Violence. Advance online publication. https://doi.org/10.1007/s1089
Pintin-Perez, M., Rojas, M., and Bhuyan, R. (2018). The Symbolic Violence of Tolerance: Regulating the Lives of Central American Migrant Women through Mexico's Zonas de Tolerance (sex trade zones). International Women's Studies, 68, 75-84. https://doi.org/10.1016/j.wsif.2018.02.005
Ku, Jane, Bhuyan, R., Sakamoto, I., Jeyapal, D., and Fang, L. (2018). "Canadian Experience" discourse and anti-racialism in a "post-racial" society. Ethnic and Racial Studies. Advance online publication. http://www.tandfonline.com/doi/full/10.1080/01419870.2018.1432872
Bhuyan, R. Bejan, R. and Jeyapal, D. (2017). Social workers perspectives on social justice in social work education: When mainstreaming social justice masks structural inequalities. Social Work Education: The International Journal, 36(4), 373-390.
Bhuyan, R., Jeyapal, D. Sakamoto, I., and Ku, J. (2017). Branding 'Canadian Experience' in Immigration Policy: Nation-Building in a Neoliberal Era. Journal of International Migration and Integration, 18(1), 47-62.
Bhuyan, R., Vargas, A., Pintin-Perez, M. (2016). Fleeing domestic violence from a "safe" country: Refugee determination for Mexican asylum seekers in Canada. Refuge, 32(3), 95-107.

Bhuyan, R., Osborne, G., Cruz J.F.J (2016). "Once you arrive, se te sala todo" (everything is salted): Latina migrants' struggle for "dignity and a right to life" in Canada. Journal of Immigrant and Refugee Studies, 14(4), 411-431.
Lee, E. and Bhuyan, R. (2013). Negotiating within whiteness in cross cultural clinical encounters. Social Service Review, 87(1), 98-130.
Bhuyan, R. and Velagapudi, K. (2013) From One "Dragon Sleigh" to Another: Advocating for Immigrant Women Facing Violence in the Midwestern United States. Affilia,  28(1), 65-78.
Bhuyan, R. and Smith-Carrier, T (2012). Constructions of migrants' rights in Canada: Is subnational citizenship possible? Citizenship Studies, Vol. 16(2), pp. 203-221.
Bhuyan, R. (2012). Negotiating citizenship on the frontlines: How the devolution of Canadian  immigration policy shapes service delivery to women fleeing abuse.  Law & Policy, Vol.  3(2), pp. 211-236.
Park, Y. and Bhuyan, R. (2012). Whom should we serve? A discourse analysis of social workers' commentary on undocumented immigrants. Journal of Progressive Human  Services, Vol.  23(1), pp. 18-40.
Bhuyan, R., Park, Y. and Rundle, A. (2011). Linking practitioners' attitudes towards immigrants  with their social work education Social Work Education: The International Journal.  Available online October 2011. DOI:10.1080/02615479.2011.621081
Park, Y., Bhuyan, R., Richards, C. and Rundle, A. (2011). U.S. Social Work Practitioners' Attitudes towards immigrants and immigration: Results from an online survey. Journal of  Immigrant and Refugee Studies, Vol. 9(4), pp. 367-392.
Bhuyan, R. and Smith-Carrier, T. (2010). Precarious migratory status in Canada: Implications for Social Work and Social Services Delivery. Canadian Social Work Journal, Vol. 12(1), pp. 51-60. 
Bhuyan, R. (2010). Reconstructing citizenship in a global economy: How restricting immigrants from welfare undermines social rights for U.S. citizens. Journal of Sociology and Social Welfare. .  Vol.  38(2), pp.63-85.
Bhuyan, R. (2008). The Production of the "battered immigrant" in public policy and
domestic violence advocacy. Journal of Interpersonal Violence. Vol. 23(2), pp. 153-170.
Walters, Karina L., Tessa Evans-Campbell, Jane M. Simoni, Theresa Ronquillo, and Rupaleem Bhuyan (2006) "My spirit in my heart": Identity Experiences and Challenges among American Indian Two-Spirit Women. Journal of Lesbian Studies, Vol. 10 (1/2), pp 125-149.
Bhuyan, Rupaleem and Kirsten Senturia (2005). Understanding domestic violence resource utilization and survivor solutions among immigrant and refugee women: Introduction to the special issue. Journal of Interpersonal Violence, 20(8), pp. 895-901.
Bhuyan, Rupaleem, Molly Mell, Kirsten Senturia, Marianne Sullivan, Sharyne Shiu-Thornton
(2005). "Women must endure according to their karma": Cambodian immigrant women talk about domestic violence. Journal of Interpersonal Violence, Vol. 20(8). pp. 902-921.
Sullivan, Marrianne, Rupaleem Bhuyan, Kirsten Senturia, Sharyne Shiu-Thornton, Sandy Ciske (2005). Participatory action research in practice: A case study in addressing domestic violence in nine cultural communities. Journal of Interpersonal Violence, Vol. 20(8), pp. 977-995.
Nurius, Paula S., Rebecca S. Macy, Rupaleem Bhuyan, Victoria L. Holt, Mary A. Kernic,
Frederick P. Rivara (2003). Contextualizing Depression and Physical Functioning in Battered Women: Adding Vulnerability and Resources to the Analysis. Journal of Interpersonal Violence, 18(12), pp. 1411(21).