Anita Charleson-Touchie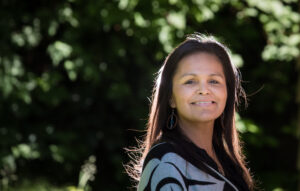 Title(s):
MEd. Counselling Psychology
Biography:
My cultural name is Speaks with a Sea Serpent's Tongue/Crystals coming out of the Mouth. I am Nuuchahnulth from Yuuthluuithaht First Nation. My husband is Tyson Touchie and we have 6 children and 2 grandchildren. In 1999, I graduated from Vancouver Island University with a Diploma in Quuasa Counselling and in 2001 with a Bachelor of Arts Degree in Psychology. I pursued my Graduate studies from the University of Victoria and completed my Masters of Education, Counselling Psychology in 2015.  I have been in the helping field assisting individuals, families, and communities for 20 years during which time I have trained & worked with well respected elders in methods of Indigenous healing.  I have interned with Jane Middelton-Moz, I have been trained in Somatic Experiencing®, and practice from a trauma-informed perspective. I am currently a Family Trauma Therapist at Kackaamin Family Development Centre. I value and utilize a combination of clinical and cultural approaches in helping individuals, families, and communities heal trauma
Areas of interest include trauma & addiction, Indigenous wellness & healing, cultural oppression, connectedness and cultural resiliency, parenting from an indigenous perspective, etc.  I am a member in good standing with the Canadian Counselling and Psychotherapy Association.